7 States That Would Be Rolling in Green If They Legalized Marijuana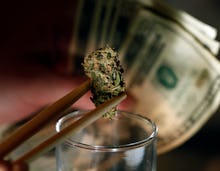 According to a budget proposal released Wednesday by Colorado Gov. John Hickenlooper, his state is expecting roughly $1 billion in sales of recreational marijuana in the rest of the fiscal year, which will generate roughly $100 million in revenue for the state. That's a lot of green coming from a lot of green. 
But it shouldn't be too much of a surprise. Though people have continuously called this the "Great Experiment," numerous economists have made promising forecasts that indicate there's a lot of money to be made in what could be America's biggest cash crop. Of course, those were just estimates, and even Gov. Hickenlooper's budget is an estimate, but all the early indicators point to the fact that Americans want legal marijuana and they want to spend money on it. 
Based on this, we can start to ask if the sale and taxation of recreational marijuana could become a serious and perpetual revenue source in Colorado and other states around the country. Washington has already approved legalization and several other states are also likely to legalize soon. And if these states are concerned that the revenue isn't worth it, they can now take some solace in the fact that there's at least the potential to make a lot of money by legalizing recreational marijuana.
Of course, as seen by Colorado's proposed budget, large chunks of that money will be needed for (at least initially) drug youth prevention programs and programs to control drug use and make it safe, but it's certainly possible these costs will go down over time and a state could be sitting pretty on high stacks of cash. 
Here's a list of some states that are likely to legalize soon (or have already legalized), could use the money because of large budget shortfalls or are in the position to grow a lot of marijuana because of their natural climates.
To get a basic sense of how the states could fare, I've done some very basic estimating math, comparing the population size of each state with Colorado's 5,268,367 people and then estimating how much money in tax revenue each state could make based on that. Of course, there are a number of other factors that could dramatically alter a state's actual potential for marijuana tax revenue (how many actual customers there are, various taxes and regulations in each state, prices and potential price controls, etc.), but it's kind of fun to imagine what could be. 
1. Washington
Budget Deficit: $3.1 billion
Population: 6,971,406
Population Percentage of Colorado: 132.3%
Potential Tax Revenue: $132.2 million
Potential Tax Revenue's Percentage of Budget Deficit: 4.26%
2. California
Budget Deficit: $15 billion
Population: 38,332,521
Population Percentage of Colorado: 727.5%
Potential Tax Revenue: $727.5 million
Potential Tax Revenue's Percentage of Budget Deficit: 4.85%
3. New York
Budget Deficit: $2 billion
Population: 19,651,127
Population Percentage of Colorado: 373%
Potential Tax Revenue: $373 million
Potential Tax Revenue's Percentage of Budget Deficit: 18.65%
4. Maine
Budget Deficit: $454 million
Population: 1,328,302
Population Percentage of Colorado: 25.2%
Potential Tax Revenue: $25.2 million 
Potential Tax Revenue's Percentage of Budget Deficit: 5.55%
5. Kentucky
Budget Deficit: $371 million
Population: 4,395,295
Population Percentage of Colorado: 83.4%
Potential Tax Revenue: $83.4 million
Potential Tax Revenue's Percentage of Budget Deficit: 22.48%
6. New Hampshire
Budget Deficit: $250 million
Population: 1,323,459
Population Percentage of Colorado: 25.1%
Potential Tax Revenue: $25.1 million
Potential Tax Revenue's Percentage of Budget Deficit: 10.04%
7. Tennessee
Budget Deficit: none
Population: 6,495,978
Population Percentage of Colorado: 123.3%
Potential Tax Revenue: $123.3 million
Potential Tax Revenue's Percentage of Budget Deficit: NA