Blackface Rears Its Ugly Head At the Sochi Olympics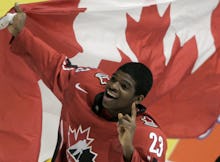 The Canadian men's hockey team narrowly escaped what would have been a stunning upset by Latvia on Thursday, squeaking by with a 2-1 win to advance to the Olympic semifinals. Yet there has been as much buzz over what went on in the stands as what nearly happened on the ice.
The New York Times' Ben Rothenberg tweeted a photo of a white Team Canada fan watching the game in full-on blackface while wearing the jersey of Jamaican-Canadian player P.K. Subban. Appropriate outrage has ensued, especially given the inexplicable resurgence of blackface in popular culture in the past year. This isn't the first time we've seen horrific displays even from fans attempting to show support for a black player; when Subban first came up with the Montreal Canadiens in 2010, some Habs fans paired "Subbanator" T-shirts with afros and shoe polish on their faces.
As cringeworthy as those outfits are, most racist gesturing by hockey fans is more pernicious. Former NHL goalie Kevin Weekes and current Philadelphia Flyer right winger Wayne Simmonds have both had banana peels thrown at them on the ice. When Simmonds played in Europe during the 2012-13 lockout, opposing fans showered him with a chant of "opice" – the Czech word for "monkey." And it's not just fans: A couple of years ago, Phoenix Coyotes forward Raffi Torres donned blackface while dressing as Jay-Z for Halloween.
To read the rest of this column, please click over to Bloomberg View.