The Brooklyn Nets Just Made History With This Picture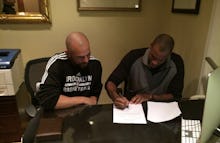 The news: It's finally official, an NBA team will have on its roster an openly gay basketball player. Jason Collins has been officially signed to an NBA contract with the Brooklyn Nets, making him the first gay professional athlete on an active roster for a major team sport. 
The Nets posted this picture on Twitter Sunday afternoon:
Collins will sign a 10-day contract, and is expected suit-up Sunday against the Los Angeles Lakers.
When on April 29, 2013 Collins came out publicly as gay, he became the first gay active male professional athlete in a major North American team sport, however he hasn't been on a roster or played in an NBA game since then. Though his announcement was very exciting, his not being on an active roster partially took away from the potential social impact his announcement could have had. But by signing with the Nets, Collins is making NBA and major sports history. 
"Today Jason Collins tore open the last remaining closet in America, and became the first openly gay player to be signed by a team in one of the big four sports," Brian Ellner, founding board member of Athlete Ally, told PolicyMic. "We are especially excited that Jason will be playing in Brooklyn, just like Jackie Robinson. And in a marriage equality state. This is a piece of history, an important point on the continuum toward justice and a moment to celebrate."
The background: Of course, just as Collins earned a great deal of attention last April, joining the Nets' roster will likely stir up another pot of excitement, but his future teammates are confident they'll be able to handle it. 
"I think it's definitely going to be a media circus just because of the situation," Brooklyn Nets guard Deron Williams told Newsday regarding Collins' potentially joining the team when rumors began circulating last week. "It'd be a historic day and so we definitely have to deal with that. But I think with the type of team that we have, veterans who have played with him before and know him, it shouldn't be a problem."
However, Williams made it clear that any distractions caused are not Collins' fault. 
"It's not him being a distraction," Williams said. "It's just the media coming along with it, because every city you go to, it's not just like you answer a question once and then it's over with. It's a recurring thing. But like I said, I don't think it would be a problem for us."
The takeaway: Hopefully it won't be a problem for anyone else either. When top NFL prospect Michael Sam publicly came out, some NFL executive said some pretty crazy things, but the NFL has historically been a less-than-progressive league. The NBA has a great opportunity to embrace Collins and set the tone for how a professional sports league should treat its athletes.