11 Badass Asian Musicians Who Are Shattering Stereotypes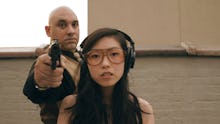 When people think of Asian musicians, they typically think about two things: "Gangnam Style" and classical music. But no longer.
Asians face crippling stereotypes in many different artistic fields, but in music especially they've long been pigeon-holed as strictly classical musicians or exotic dance pop producers.
That was always ridiculous, but these days it's gotten pretty hard to overlook the ingenious, often incredibly socially-conscious Asian musicians the world over. From a rapper bringing some of the most badass female hardcore rap in music to a Korean-American doing Mumford & Sons better than even Mumford can, here are 11 Asian and Asian-American musicians who are shattering stereotypes.
1. Awkwafina
Queens rapper Awkwafina has titles guaranteed to make the entire Upper East Side cringe. With songs like "My Vag," "Yellow Ranger," "NYC Bitche$" and "Queef," she tackles sexuality, race and negative stereotypes.
She's still relatively unknown, but not for long. Her music videos have big numbers on YouTube both because they're badass and because they're hilarious. Her satire is like the X-rated version of The Daily Show, and you'll find yourself laughing and memorizing the lyrics all in one go. Her first album dropped this month, and with a slew of live performances lined up, Awkwafina is on the verge of hitting it big. 
2. Yuna
Malaysian singer-songwriter Yuna is acclaimed by critics, has worked with the likes of Pharrell Williams and performed on Conan, Last Call With Carson Daly and Jimmy Kimmel Live.
She basically sounds like a cross between Coldplay and Bon Iver. But sexy. Her haunting lyrics come from a personal place, but they address life and love from a global and universal perspective. The Muslim singer is also not afraid of showing her religion: While she doesn't proselytize, she also wears a hijab head scarf when she performs. Yuna proves as she wins over legions of fans that music transcends religious prejudice.
3. WHOwho
Show this to anyone who thinks Korean music is all K-Pop.
Enormously popular in the South Korean indie music scene, WHOwho sound like this generation's Daft Punk and look like Brooklyn hipsters. Their mix of electronic dance rock is a far cry from K-pop, and with their catchy tunes and unrelenting hooks, it's not hard to imagine them easily transitioning to America — especially since they sing mostly in English. 
4. Ruby Ibarra
Ruby Ibarra is another female hip-hop artist to watch. Hailing from San Lorenzo, Calif., she wants to use her rap to "bring back raw, gritty hip-hop ... and to educate and tell the stories that [have] been left untold by the media." The Filipino rapper easily handles complex lyrics and beats all while switching between English and Tagalog from one verse to the next.    
5. Crystal Kay
Born to an African-American father, a Zainichi-Korean Mother and raised in Japan, Crystal Kay has been paving the way for interracial mainstream acts in Japan (and abroad) since her debut in 1999. With a sound rooted in R&B and pop, her U.S. debut video was released via MTV Iggy on Valentine's Day of this year.
With a long and extremely successful career in Japan, Kay has said of her identity, "I consider myself a Japanese artist because I was born and raised here, but nationality-wise I look, and am, foreign."
6. Andy Suzuki and The Method
With soulful lyrics, lush sounds and fantastic instrumentals Andy Suzuki and The Method often sound like more than the three-person band they are. Comprised of half-Japanese, half-Jewish Americans Andy Suzuki, Jason Gorelick and Nigerian percussionist, Kozza Olatunji-Babumba, the NYC-based group often uses the personal to address the challenges "hyphenated" Americans face.
7. Run River North
This Californian Korean-American band is like an infinitely cooler Mumford & Sons. Run River North's group of classically trained musicians makes indie folk rock about the Asian-American experience — challenging the stereotype of Asians being "model" immigrants with much better and more complex stories.
In the song "Monsters Calling Home," lead vocalist Alex Hwang sings, "They're walking heavy to the beat of a broken drum / Digging for worth in the land of a strange sun / Their children call, bitter words of a strange tongue / Hearts down, they're walking heavy till the dying's done."  With their potent harmonies and subject matter, it's no wonder Run River North has started to break into the mainstream, including an appearance on Jimmy Kimmel Live in 2013. 
8. Blue Scholars
Hip-hop duo Blue Scholars take on some serious socio-economic class struggles, immigration and racism in their incredible songs. Often, they draw on the experiences of vocalist MC Geologic's experience as a Filippino-American activist.
Geologic and music partner DJ Sabzi (Iranian-American Saba Mohajerjasbi) use their music to create real change, too. In 2007, Geologic teamed up with hip-hop artist Kiwi on the Stop the Killings Tour, which worked to bring awareness to the human rights violations and extra-judicial deaths in the Philippines.
9. Beenzino
South Korean hip-hop artist Beenzino has a been making waves on the underground South Korean music scene since he was extremely young. His sound is a slick mix of Motown and '90s rap — basically the exact opposite of PSY. He's also incredible.
10. Baiyu
Chinese-born and American-raised Baiyu cites Mariah Carey and Whitney Houston among her influences. Also a VJ on mtvU, Baiyu's pop and R&B tracks are well-placed to make her the rightful successor to those two legendary '90s divas.
People are noticing her, too. She's shown up on a number of musicians-to-watch lists, and also has a degree in sociology from Princeton. For her newest work, Ayahuasca, she traveled down in Peru in order to work on the plant medicine that titles the album, proving, once again, she's not your typical pop star.
11. Bambu
Bambu used to be a gang member before he turned into a hip-hop MC and activist. The Filippino-American Bambu started his music career as a member of social justice-conscious hip-hop group Native Guns, which also included Filipino American rapper Kiwi and Chinese American DJ Phatrick.
Not afraid to court controversy, his 2007 second album dropped on the anniversary of the L.A. race riots, while the album cover featured a Ku Klux member being hanged in the background. His newest release, Exact Change dropped on Sept. 11, and mixes personal introspection with compassionate political activism. 
Correction: Feb. 28, 2014
An earlier version of this article misidentified the drummer for Andy Suzuki and the Method as Babatunde Olatunji. That is the drummer's grandfather — the drummer's name is Kozza Olatunji-Babumba.