The Oldest Holocaust Survivor Showed Us Just How Beautiful Life Is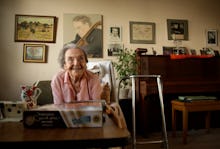 Alice Herz-Sommer, the oldest known Holocaust survivor has passed away, leaving behind an era of music, history and inspiration.  
At 110 years old, Herz-Sommer described how, in a time of death, music was her saving grace. Originally from Prague, she had lived in London until the Nazis took her, her husband and her son to Terezin (Theresienstadt) a labor and concentration camp. Both of her parents were gassed and killed at Terezin. 
While her husband was killed at the concentration camp, she became a member of the camp's orchestra, playing piano for Nazi soldiers.
"Music saved my life and music saves me still," Herz-Sommer said. 
She played more than 100 recitals while fighting to protect her son. Herz-Sommer and her son were later reunited as part of the few lucky to survive. 
"The world is wonderful, it's full of beauty and full of miracles," she said. 
A courageous survivor, brilliant pianist and joyful woman, Herz-Sommer is the subject of an Oscar-nominated short documentary, The Lady In Number 6: Music Saved My Life. A preview of the film reveals how amazing she was. 
Herz-Sommer, known as "Gigi" by those close to her, chose not to hate the Nazis. "I know there is bad in the world, but I look for the good," she told JTA in a brief telephone interview recently, and "music is my life, music is God."
Herz-Sommer recently recalled one of the rare glimpses of humanity from inside the concentration camp. When she was set for release from the camp, a Nazi soldier came up to her and said, "I hope you will come back. What I want to tell you is that I admire you, your playing, hours and hours, the patience and the beauty of the music."
She described the Nazi who thanked her as "the only human" there. 
Images and video footage of Herz-Sommer show a contagious smile and a spirit bright enough to light up a dark room. Some of her last messages show that above death, destruction and grief — love trumps all. 
"I think I am in my last days but it doesn't really matter because I have had such a beautiful life. And life is beautiful, love is beautiful, nature and music are beautiful. Everything we experience is a gift, a present we should cherish and pass on to those we love."