A Stunning Map Shows All the Lenin Statues That've Been Toppled in Ukraine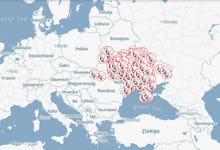 The violence in Ukraine appears to be ending, but the same cannot be said of anti-Russian sentiment. Popular protestso pposing President Viktor Yanukovych's attempts to re-align the country's economy with Russia'shave led to increased ill will toward Ukraine's Soviet past — and its former leaders.
Across the country, protesters have been toppling statues of Russian revolutionary leader Vladimir Lenin. Footage of the demonstrations — taking place in Bila Tserkva, Khmelnitsky and Zhytomyr — is popping up online, and the Ukrainians have made one thing clear: they want Lenin gone.
Of the nearly 1,500 Lenin memorials across Ukraine, protesters have reportedly destroyed around 100. Protesters have also created a website to map out all the locations where Lenin statues have been destroyed. Check it out below:
You can also see an updated photo list of destroyed statues here.
But of course, not everyone in Ukraine favors severing ties with Russia. Around one in six Ukrainians is ethnically Russian, and many have actively tried to stop the destruction of Lenin statues. According to the BBC, at least one Russian-speaking region of Ukraine has defended these statues from angry protesters.
The ethnic and political divide in Ukraine is something that will not simply disappear with promises of governmental reforms and balance of power. Those who come into power next will have to address the issue of Ukraine's divided past — and how the government can be accountable to all the country's diverse ethnic, religious and linguistic groups.