10 Clips of This Year's Oscar Nominees From Way Before They Were Famous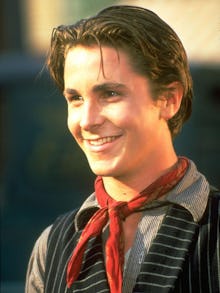 Every year on Oscar night, the nominees for the Best actress and actor categories tend to act like Hollywood royalty. But everybody has to get their start somewhere, and, often, that somewhere is pretty embarrassing.
So here are some of the earliest recorded performances of this year's nominees — embarrassing and otherwise:
1. Matthew McConaughey in 'Angels in the Outfield' (1994)
So everyone remembers him as our favourite sleaze from Dazed and Confused. But nobody remembers him from another '90s classic Angels in the Outfield. You'll recognize McConaughey as the shirtless one in the clip above, already working on his signature move.
If you look closely you'll also see Adrien Brody, proving that maybe Angels in the Outfield was a breeding ground for Oscar gold?
2. Jennifer Lawrence in 'Monk' (2006)
Many think that Lawrence's big break was in Winter's Bone, which earned her first of three Oscar nominations. In fact, she had a slightly less triumphant start: playing a sports mascot on TV show Monk. Despite never seeing her face, that trademark Lawrence charm shines through, perhaps due to her accosting of Tony Shalhoub's title character.
Just another totally endearing J Law moment.
3. Amy Adams in 'Drop Dead Gorgeous' (1999)
Adams is a five-time Oscar nominee for some very memorable parts. What you may not remember is that her first role was as a participant in a small-town beauty pageant in Drop Dead Gorgeous. It's pretty hilarious.
More notably, though, just a few years later she had a small part in a more notable film: Catch Me If You Can. She is nearly unrecognizable as a lovestruck, braces-clad nurse who falls for Leonardo DiCaprio's con man. The role may not have earned her any awards, but it put her on Steven Spielberg's radar and on track to her first nomination only four years later.
4. Christian Bale in 'Newsies' (1992)
Of course people know Christian Bale as the Dark Knight's incarnation of Batman. But did you know he was a child star on Newsies? Check out those pipes. 
5. Sandra Bullock in 'Demolition Man' (1993)
Before she was America's sweetheart and a two-time Oscar nominee, Bullock starred in a different kind of sci-fi film. In 1993 she acted as Sylvester Stallone's love interest in the classic Demolition Man.
While it's probably not a highlight in her career, Bullock can boast one of the most interesting sex scenes in recent memory (NSFW, skip to 1:45 in the clip). Maybe it was her performance that inspired a similar (yet significantly improved) scene in this year's Her? Either way it's worth a look, if only to see just how far she's come. 
6. Chiwetel Ejiofor in 'Amistad' (1997)
A full 17 years before playing Solomon Northrup in 12 Years a Slave, Chiewetel Ejiofor took a role in Steven Speilberg's Amistad. In that film he portrayed an interpreter and took a backseat to the likes of Djimon Honsou, Anthony Hopkins, Morgan Freeman and Matthew McConaughey.
His Oscar-nominated performance puts Amistad to shame; it shows just how far he's come.
7. Cate Blanchett in 'Thank God He Met Lizzie' (1997)
When thinking of Blanchett, the words 'romantic comedy' don't usually come to mind. Well, before she was taking home every award known to man, Blanchett starred in a little-known Australian film from 1997 called Thank God He Met Lizzie. Blacnhett starred as the titular Lizzie, who is described as "an impossibly beautiful doctor with elegance, style and sophistication." So she was already working well within her wheelhouse.
8. Bradley Cooper in 'Alias' (2001)
Cooper has become something of a big deal lately, going from a hilarious role in The Hangover to two Oscar nominations. However, there is a faction of fans who will always remember him as the lovelorn Will on ABC's Alias. Yes, Cooper's big break was playing a nerdy journalist who could never quite make Jennifer Garner's Sydney Bristow fall in love with him. Well, Sydney's loss is our gain. So take that, Michael Vaughan.
9. Michael Fassbender in 'Jonah Hex' (2010)
Fassbender has some amazing performances from his early career — Band of Brothers, 300 and of course Hunger.
But that doesn't mean he escaped some early embarrassments: One of his most interesting pre-Oscar roles? Burke in the box office flop Jonah Hex. If you don't remember Fassbender in that film (or if you didn't see it) he played the thug with the face tattoos. Of course he does it in trademark Fassbender style — sly grins and one-liners — but Burke's not exactly as memorable as Master Epps in 12 Years a Slave. That the film was only released four years ago is a testament to Fassbender's rapid ascent. 
10. Sally Hawkins in 'Layer Cake' (2004)
Hawkins may be an Oscar nominee for her role in Blue Jasmine, but she's not exactly a household name. She has spent her career in British productions, like 2004's Layer Cake, where she played a character known as Slasher.  
The film, notably, was one of Daniel Craig's first starring vehicles, but it's Hawkins who provides a memorable performance as an inept London criminal. It might not have been Oscar worthy, but the film is a must for those who love Guy Ritchie style capers, or those who want to pretend Hawkins is a Bond girl.