15 Foreign Pop Stars Who Are About to Become Household Names in the U.S.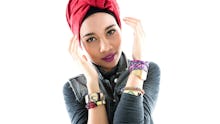 A lot of American music fans seem to believe that their pop stars are somehow the biggest musicians in other countries too. Well, it turns out that's not the case.
Alongside the foreign artists who occasionally break into the U.S. mainstream — artists like PSY ("Gangam Style"), Nena ("99 Luftballoons"), Shakira ("She Wolf") or Lorde ("Royals") — there's a whole host of foreign pop stars that are largely overlooked by Americans. While their songs are completely obscure to us — or at best a blip on the U.S. airwaves — they are nearly as inescapable in their own countries as a Katy Perry single is in America. And if these artists are any example, they might soon experience some major crossover success.
Here are 15 pop stars from other countries who are breaking into the global music scene:
1. Aryana Sayeed (Afghanistan)
Although Afghani Aryana Sayeed, who serves as the star presenter on The Voice of Afghanistan, lives in London, she sings in Dari and Pashto. She is credited as the first Afghani artist whose music was broadcast internationally. There's a reason for it: She has an amazing voice.
2. Fernando and Sorocaba (Brazil)
The now-ubiquitous New Zealand teenager Lorde has made it to second place on Brazil's top 40 chart with "Royals," but No. 1 is held by the country's own: sertaneja (loosely, country music) duo Fernando and Sorocaba's hit song "Gaveta."
Sertaneja music, with its stripped-down guitar and clear vocal harmonies, has dominated Brazilian pop charts for the past few decades. It's surprisingly similar to American country music in its almost cheesy sincerity, but these artists turn the genre into something special.
3. Li Yuchun (China)
In 2013, Chinese pop singer Li Yuchun beat out the likes of Justin Bieber to take home the 2013 MTV Europe Music Awards Best Worldwide Act trophy, but most Americans haven't heard of her.
She's no Jay Chou — the famed singer who broke into the American consciousness with his rigid acting in the Seth Rogen's disastrous Green Hornet. But she's a new force in mainland China, and it won't be long before she finds her footing on foreign soil.
4. Tamer Hosny (Egypt)
Tamer Hosny is a top-selling pop artist in Egypt. He's also the man whose warm words about Hosni Mubarak in the earlier stages of the Egyptian Revolution rattled demonstrators in Tahrir Square.
After a tearful apology, though, he went back to churning out hits. This one, oddly enough, features Snoop Dogg.
5. Orchestre Septentrional (Haiti)
Haiti's current president is Michel Martelly, a former pop star, and Haiti's biggest global export is of course Wyclef Jean.
But Orchestre Septentrional, the Afro-Caribbean jazz band, is a national staple. Founded in 1948, the group has the kind of longevity that Wyclef Jean likely can't muster.
6. AKB48 (Japan)
In 2011, the supergroup AKB48 entered the Guinness Book of World Records as the pop group with the greatest number of members.
Based on the video for "Koi Suru Fortune Cookie," that seems like a well-deserved title. The music is pretty great, too.
7. Yuna (Malaysia)
Yuna, known as the Muslim law student turned Malaysian pop star, is now on tour in the U.S. and rapidly gaining a sizable American fan base through appearances on shows like Conan.
She writes her songs in English, wears hijabs, isn't shy about her faith and exudes a remarkably sincere positivity in her music. "She's got life in her veins," Yuna sings, "She don't need no rescuing, she's okay." Sounds about right.
8. Kcee (Nigeria)
Nigeria has a surprisingly strong cinema industry ("Nollywood"), second only to India in number of movies produced each year. Its popular and club music scene is similarly robust. This song, "Limpopo," is named after Africa's second largest river, and its pep shows why Kcee (Kingsley Okonko) is a rising star in African pop.
9. Doda (Poland)
Polish pop star Doda, aka Dorota Rabczewska, remained a superstar even after her globally recognized rock band Virgin broke up in 2007. She is known globally perhaps not for her music, but for blasphemy charges brought against her in 2010 after she claimed in an interview that the Bible was written by drunks and smokers, which ruffled more than a few feathers in Catholic Poland. 
10. Tom Close (Rwanda)
Thomas Buyombo, the Ugandan-born musician who performs as Tom Close, won the 2011 Rwandan singing competition Guma Guma Super Star. His prize: recording a single, entitled "Good Time Tonight," with Sean Kingston. Buyombo is also a practicing doctor based in Kigali and has written and illustrated several children's books. He's a pretty big deal in Rwanda.
11. Bathiya and Santhush (Sri Lanka)
Outside of Sri Lanka, the London-based Sri Lankan transplant M.I.A. has eclipsed all other popular music stars to emerge from her country.
But the classically trained duo Bathiya and Santhush has been dominating the music industry since their formation in 1998, singing in Tamil, Sinhala, Hindi and English, and experimenting with a mix of reggae, rap, R&B and heavy crooning. This song is one of their best — it's as good as anything M.I.A. can muster.
12. Tarkan (Turkey)
Turkey's Elvis Presley (or Justin Timberlake, or Ricky Martin, depending on your preferred era of comparison), Tarkan Tevetoglu, was born in West Germany but has been selling out concerts in Turkey since the early 1990s.
Like Presley, Tarkan was called to military service as his musical career was taking off. After he failed to show for compulsory duty in 1998, he was nearly stripped of his Turkish citizenship. He sings exclusively in Turkish but has enjoyed enormous international success because his music is really catchy.
13. VIA Gra (Ukraine)
Ukraine has been in the news for its bloody revolution, resolved and unresolved over and over again. But its pop music has long been ignored (though 2004 Eurovision song contest winner Ruslana Lyzhychko has been conspicuous at protests and recently hailed as the "soul of Ukraine's revolution").
Amidst the chaos, the reborn girl group VIA Gra (yes, it is a play on words) leads the Ukrainian pop charts with their new song "Peremirie." 
14. El Potro (Venezuela)
Antonio Álvarez, better known in the music world by his stage name El Potro, is a Venezuelan baseball player and singer (a surprisingly common crossover: see Detroit Tigers pitcher Denny McLain, Arizona Diamondbacks pitcher Bronson Arroyo). He's been married twice to two different Miss Venezuelas; he's run (unsuccessfully) for a local mayoral election, invoking Hugo Chávez's platform; and he's most recently topped the Latin pop charts with this catchy No. 1 hit, "Ayantame," featuring the Dominican merenhouse trio Los Illegales.
15. My Tâm (Vietnam)
Vietnamese live TV is dominated by a variety of adapted American Idol-esque singing competitions, and as a result competition winners are well-represented in its pop music industry.
Vietnamese queen of pop My Tâm, however, was one of the first to get her start that way, and now she is serving as a judge on Vietnam Idol. This is one of her greatest songs.