There Was a Major Victory for Transgender Student Rights in California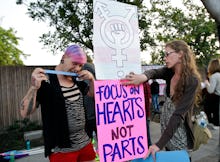 A California law protecting transgender youth from discrimination in school is safe — for now.
Assembly Bill 1266 — which went into effect on Jan. 1 — had been imperiled by conservative groups seeking a public referendum vote to repeal it on the November ballot. However, on Monday, California's Secretary of State Debra Bowen announced that the referendum was about 17,000 signatures short of the 504,760 needed to force a state-wide vote.
Apparently, while opponents submitted 619,381 signatures, more than the required number, county election officials disqualified 131,897 of them as invalid.
Transgender youth often get discriminated against and unfairly. They are often excluded from physical education classes, sports teams and other school activities and facilities. The law, Assembly Bill 1266, or the School Success and Opportunity Act, ensures transgender public school students in grades K-12 have the same opportunities as their peers, permitting them to join sports teams and access facilities like bathrooms and locker rooms that correspond with their gender identities, not their biological sex.
Supporters of the shield statute say AB 1266 fosters an environment in which all students can do well and graduate, according to the executive director of the Transgender Law Center in Oakland, Masen Davis. The law's author, California State Assemblyman Tom Ammiano (D) said it's "important that we begin to understand what transgender students are going through."
Though this is the first law of its kind in the United States, the movement to end discriminatory practices against transgender youth is alive in other states as well, albeit in different forms. Massachusetts and Colorado have statewide policies similar to AB 1266, while Colorado and Maine's human rights commissions have maintained that state law requires students to respect students' gender identities. And the Los Angeles Unified School District, the nation's second-largest school district, has implemented a policy similar to AB 1266 in 2005.
While an important victory for advocates of transgender equality in schools, the fight to protect student rights isn't over yet. 
"We are preparing for the next stage of the battle," said Karen England of the coalition Privacy for All Students in a statement. Opponents of AB 1266 maintain that it violates the privacy of students who may be uncomfortable sharing facilities with classmates of the opposite sex. They contend that some valid signatures may have been mistakenly disqualified from their list by officials, and plan to challenge the results and take the matter to court depending on what they find.