What Angelina Jolie Could Teach World Leaders About Syria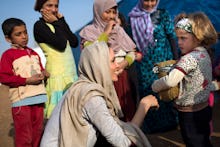 It's not often that Syria's humanitarian crisis makes headline news in Perez Hilton, E! News, Just Jared or Hollywood.com — but Angeline Jolie's recent trip to Lebanon has everyone talking. Of course, few people have the same pull as the internationally-acclaimed actress/UN ambassador, but have we heard of any other "big name" visits to Syrian refugees?
Every day, children are dying without food or shelter, but little has been done. 
As one documentary photographer said after visiting Syrian refugee children in Lebanon, "no one cares." A visit from top-level officials from the Obama administration could change that. For a country that considered bombing Syria, a visit to help its people shouldn't be a tall order. 
World leaders have a unique opportunity to leverage their names for international action. U.S. leaders have visited Syrian refugees, but their trips barely made headlines outside of official government blogs. In January 2013, U.S. Ambassador to Syria Robert Ford, Assistant Secretary of State for Population, Refugees and Migration Anne C. Richard, and USAID's Nancy Lindborg recently visited a refugee camp for Syrians in Turkey. This year, Richard, along with Special Adviser for Global Youth Issues Zeenat Rahman from the Department of State, visited refugees in Jordan.  While their visits are important, you'd be hard-pressed to see breaking news coverage on them. Meanwhile, thousands of children die everyday in a situation in desperate need of help. 
Big names bring big coverage. That's the reality of media. And Angelina Jolie knows this. So does does Malala Yousafzai. In a recent interview, the young women and education rights pioneer called on President Obama to visit Syrian refugees. 
"I would request that the president go to the Jordinian-Syrian border, or go to the border of Lebanon and Syria, and see how these people are suffering," Yousafzai said in an interview with Wolf Blitzer. "When he will look at it, he will feel it. And then he will understand what is happening here."
Jolie's visit was heavily guarded. She was surrounded by tight security on her surprise visit. While a visit by Obama himself may be out of the question for security reasons, another top-level visit by the Obama administration would add to the media coverage Jolie has given Syrian refugees.
It's not out of the question for the secretary of state to make surprise trips to high-conflict areas. Hillary Clinton, for example, made such a trip to Yemen, Libya and Pakistan in 2011. Would John Kerry visit Jordan, Syria or Lebanon? 
A "celebrity" visit from the Obama administration could bring coverage to the over 2.5 million displaced refugees and aid the politically volatile state of Syria. As a longtime fan of the actress, it seems strange to say this: Angeline Jolie, world leaders should follow in your footsteps.