The Pope Has Taken an Astonishing Step Towards Ending Church Corruption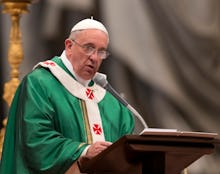 Pope Francis unlocked the floodgates to the Holy See's finances on Monday, opening the once-secret arena of information for public scrutiny. Under rising criticism for corruption, sexual abuse and dated views on LGBT and women's rights, the Catholic Church is making some serious strides to reform itself — starting with the money.
Coming clean, asking for help, call it what you will: The decision by Pope Francis to overhaul the Church's budgetary process is one other religious organizations should seriously consider. Money talks, and letting the public shape the Church's financial conversation communicates a strong message: Its leadership is serious about making the institution more accessible.
Using a motu proprio ("on his own impulse"), the Church's equivalent of an executive order, Francis is making immediate changes to the Church's finances, saying the change comes from "particular concern for the most needy." This comes from the pope who recently disguised himself as a regular priest and went out to minister Rome's homeless.
The Hole See will see a new Secretariat for the Economy, a panel that will centralize all the finances of the Church. Eight cardinals from around the world and seven experts will help make key financial decisions for the Church. Leading the Secretariat is Australian Cardinal George Pell, archbishop of Sydney. Pell has been a long time advocate for making reforming the Church's budget process. Francis has already hired Ernest & Young to help audit the Vatican's finances.
Image Credit: Flickr
The changes, Francis said, will have an "immediate, full and stable effect."
Pope Francis is by no means a perfect leader. His anti-abortion and anti-gay marriage views, despite remarks on acceptance, continue to draw international criticism. His financial overhaul, however, is gaining a lot of support.
"Pope Francis is doing incremental changes [at the Vatican] over time, it is a piecemeal approach," said Rev. Thomas Reese, an analyst on Catholic issues in an interview with the Wall Street Journal. "It is a sign that the pope is serious about changes."
Could a financial overhaul be the Church's first concrete step towards reform?