One Man Is Taking on China's Disastrous Smog Problem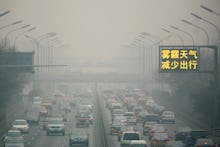 Beijing's smog is so thick, the World Health Organization has declared the air quality for the city, and much of northern China, a full-blown health crisis. People have been instructed to stay indoors, city dwellers can no longer see the tallest skyscraper and shelves of protective face-masks have been cleared out. 
Experts warn of the dangers to daily exposures smog with harmful particles at level 3. Much of China chokes at an insane 500 level or higher. One man has had enough. 
Li Xin, resident of Shijazhuang has submitted an official complaint to a district court, asking the municipal environmental protection board to "perform its duty to control air pollution according to the law," reported the the Yanzhao Metropolis Daily.
"The reason that I'm proposing administrative compensation is to let every citizen see that amid this haze, we're the real victims," Li said.
He is the first known citizen to sue the government regarding pollution. But his sentiments reflect the general feeling of most city dwellers, confined to their houses and if braving the thick, unable to see the sun. While the Chinese government has issued new laws to curb pollution, enforcement has been patchy on the local level. As Beijing's smog level rises from green to yellow to orange to red, so is the public's frustration. 
Earlier this week, outside classes, sporting events and recreational luncheons were cancelled as smog levels in Beijing billowed from level yellow to level orange. If pollution continues to rise, reaching the red level of China's smog scale, officials will order schools and other public spaces to shut down. 
Strong winds towards the end of the week are expected to provide some semblance of relief, pushing the smog elsewhere. Health experts, however, warn that the effects of breathing in thick pollutants may not blow away with the wind.  
Li says that he hopes his suit will provide "a wake up call" to Chinese authorities over the country's air crisis. 
The smog is settling in on other sectors too. Crops are taking a hit as smog prevents sunlight from reaching whole fields. Australian Open champion Li Na revealed she had to train indoors for her matches.
Until the smog subsides, many Beijing residents sit indoors, posting images of blackened air filters and yellow smog to social media or tweeting using hashtags like #nuclearwinter.