Hipsters Getting Beard Transplants Are Officially Taking Things Too Far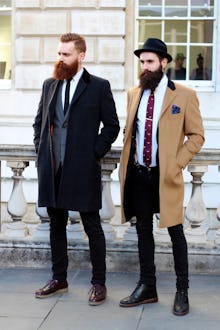 A great beard is a thing of beauty. But some people, especially patchy-bearded hipsters in New York, are taking this "trend" to the next level — by getting beard transplants.
More and more New Yorkers are willing to pay a pretty penny for a big, beautiful beard, according to local plastic surgeons. Follicly-challenged hipsters from Williamsburg to Park Slope are dropping thousands of dollars on plastic surgery to boost their beard game and blend in with their neighbors. These facial hair transplants can cost from $3,000 for a fill-in of sections to $7,000 for a full beard. Apparently, many of them ask to look like George Clooney:
Image Credit: AP
But we're guessing they generally wind up looking like Joaquin Phoenix circa 2009:
Image Credit: AP
According to New York doctors, the procedure is growing in popularity. One Midtown plastic surgeon, Dr. Jeffrey Epstein, performs two to three beard implants a week, up from just a handful a decade ago. Dr. Yael Halaas has seen four to five clients each from Williamsburg, Bushwick and Park Slope in the past year. Dr. Zizmor hasn't weighed in yet, but those areas especially are hilariously predictable.
Of course, it's not only cisgender hipsters getting beard transplants; trans men should be considered in these numbers as well.  
In doing the procedure, doctors remove hair from other body parts including the head and chest, roots and all, before implanting it in the face through micro-incisions. Once transplanted, the beard hair takes root gradually. It then falls out, leaving the roots behind, which begin to grow new hair within several months. 
Patients bring in photos of their facial hair role models. Common requests are George Clooney, Brad Pitt and the occasional Tom Selleck moustache, according to the doctors. Not that it matters, but we'd suggest including the following:
One 27-year-old patient said he used to fill in his patchy beard with an eyebrow pencil until he decided to get plastic surgery to fill in his beard two years ago — costing him a whopping $8,500. But, he claims it was "one of the best investments I've ever made."
For our part, we continue to weep for America — bearded or otherwise.