In Brilliant Solution to Libel Lawsuit, 'National Enquirer' Must Fund a Playwriting Prize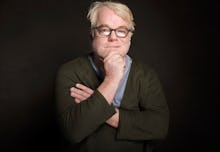 The National Enquirer owes big money after publishing a false story about Philip Seymour Hoffman — and will pay up by supporting struggling playwrights.
The tabloid published a story after Hoffman's death claiming that he and friend David Bar Katz (one of the two people who discovered Hoffman's body) were lovers, and that Hoffman had freebased cocaine the night before his death. Katz promptly filed a libel lawsuit against the tabloid, and the controversy has now come to a gratifying conclusion.
Katz withdrew his lawsuit against the Enquirer on Tuesday after reaching a settlement that would make Hoffman proud: Katz formed the American Playwriting Foundation, which will award an annual prize of $45,000 for an unproduced play — funded by the Enquirer and its publisher, American Media Incorporated. Though the value of the settlement is undisclosed, Katz's lawyer Judd Burstein assured that "it's enough for the foundation to give out these grants for years to come." 
Hoffman with Katz. Image Credit: Patrick McMullan via Page Six
Also part of the settlement is a full-page ad in the New York Times bought by the Enquirer on Wednesday, explaining their mistake. The Enquirer has since removed the story from their website, and released a retraction and apology to Katz. They claim their reporter was duped by a man impersonating Katz, and has provided Burstein with his contact information; once found, he'll be hit with his own lawsuit. "My goal is to have him living out of a cardboard box," Burstein told the Times.
A sleazy tabloid funding the arts in memory of a brilliant actor — now that is sweet, poetic justice.