Ukraine's Police Get on Their Knees and Beg Angry Protesters for Forgiveness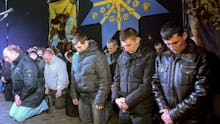 Ousted Ukrainian President Viktor Yanukovych is now on the run as leaders call for his trial at the International Criminal Court. Ukraine's parliament is scrambling to form a new government as protesters are freed from jail. International experts are debating Ukraine's potential secession from Putin's "Eurasia." Families are mourning their loved ones in mass funerals. 
While the future of Ukraine is still up in the air, acting Interior Minister Arsen Avakov made an immediate and concrete change to the country. He disbanded the country's riot police forces. 
"The Berkut no longer exists," Avakov wrote on Facebook. "I have signed an order ... for the liquidation of the Berkut special police units."
One thing became clear — former Berkut members knew what they had done, murdering fellow Ukrainians, was wrong. While many fled, a handful of former riot police stayed, pleading for forgiveness. 
In this powerful image, riot police get on their knees and ask for forgiveness. 
Image Credit: ITV News
The crowded chanted "shame!" at the men, but then grew quiet when one member spoke.
"I am asking you to forgive us," said an officer who stood in front of others in Lviv.
"In memory of those who were killed, we want to kneel down."
The riot police are apologzing for good reason. Several videos captured their onslaught on unarmed protestors, including this one: 
Reporters estimate that 100 people have been killed in Ukraine after police deployed snipers and supported the use of live ammunition rounds on protesters. The world watched in horror as videos of police shooting down protesters spread through social media and images of corpses scattered across Independence Square made headlines. 
Amidst the chaos to figure out what's next for the country, the scene is a sobering reminder of those who were killed.