Clips of Jimmy Fallon's 'Tonight' Show Have Already Amassed 37 Million+ Views on YouTube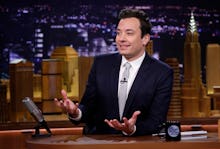 The news: Nielsen ratings for premiere week of The Tonight Show Starring Jimmy Fallon were released on Thursday, and the verdict is in: Hot damn.
With 10.42 million viewers for Feb. 17-21 – including DVR playbacks – Fallon has delivered The Tonight Show's biggest audience since Johnny Carson's farewell week in 1992. Among adults ages 18-49, Fallon's 3.6 Nielsen rating – meaning 3.6% of TV-equipped houses in the U.S. tuned in – was the highest for Tonight since May 1998, when Seinfeld finale week resulted in a 3.7.
Eat your heart out, Leno.
Winning strategy. What sets Fallon apart from his Tonight Show predecessors – as many have pointed out – is a not-so-secret weapon known as "the Internet." Anyone who's been online in the past two weeks can testify that the man is a daily fixture on news and social media outlets.
This is largely due to his show's structure: As Rachel Grate correctly points out, Fallon has eschewed the monologue shtick of his forebears in favor of a "viral content-strategy" approach. This means using his constant stream of celebrity guests as collaborators in his usually music-based comedic sketches – basically, "another SNL with a rotating cast of characters."
The result is a show specially tailored for online consumption. Fallon's short segments are the perfect YouTube length at two-and-a-half to three minutes – a fact clearly reflected in the numbers. According to the New York Times, Fallon's "giant secondary [online] audience" has amassed over 37 million YouTube views for Tonight Show segments. This number is staggering, especially considering that YouTube views generate precisely $0 in revenue for the show.
Don't adjust your glasses, you read that correctly: NBC has chosen to share Fallon bits on YouTube free of commercials. "Right now our strategy for YouTube is really about marketing and building audiences across all platforms," said Rob Hayes, NBC Entertainment's executive vice president of digital media.
"We see it as a branding play," added Gavin Purcell, one of The Tonight Show's producers in charge of digital efforts. "We're reminding you the show exists — every clip you see is a tune-in reminder."
But is this harming Fallon's TV numbers? It certainly doesn't seem to be: Tuesday night's show averaged 5.6 million viewers, with an impressive 1.9 Nielsen rating in the 18-49 bracket – the audience NBC sells most to advertisers.
It's still early, so these first two weeks could prove to be a honeymoon period for audiences. But Gavin Purcell is keeping hope alive: "The holy grail of digital has always been that the more people that see something online, the more people that tune in … That connection has been hard to prove, but no one has disproved it."
Or, as they say: "If it ain't broke, don't fix it." For the time being, viewers can expect much more of this strategy from NBC and Jimmy Fallon.