Oscar Predictions 2014: Who Will Win Every Award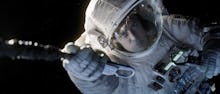 Every year the Oscars yield a whole community of predictions and pools. In many cases, big money is at stake; in other cases, it's a matter of pride. 
We have mapped out predictions for every category at this year's awards and if we're right Gravity will be a big winner while both American Hustle and The Wolf of Wall Street will go home empty-handed. Check out our full list of predictions via the link and share your own predictions in the comments.