Here's Who Will Win Every Oscar, And Why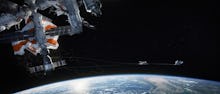 Love them, hate them, have literally no opinion about them, the Academy Awards are a night when everyone from movie-fanatics to casual onlookers peer into the world of the Hollywood limelight. And get to pass judgement.
The nominees this year boast some beloved new flicks (American Hustle, Frozen) and highly-controversial films (The Wolf of Wall Street, Blue Jasmine) that when compared against one another will make for an exciting night. It's highly possible that some of the year's most talked about films will go home empty-handed, and very likely that Gravity will toss around its exceptional cinematic weight. Below are my predictions for this year's winners. 
Best Picture, 12 Years a Slave
There is no clear Best Picture winner, which means there will be a lot of near-sweep Oscar ballots. By nearly all accounts, the nine nominees have been narrowed down to two real contenders: 12 Years a Slave and Gravity. Either film could win, and they in fact tied at the Producers Guild Awards (the first Best Picture tie in the award's history). 12 Years a Slave won the Golden Globe and the BAFTA Best Picture Award, giving it a slight upper hand. Then again, Gravity is a technical marvel, visually unlike anything we've ever seen. It'll be a coin flip here, but 12 Years a Slave is the more solid film and the more traditional choice.
The nominees:
American Hustle
Best Director, Alfonso Cuarón (Gravity)
Cuarón took him the top prize at the Directors Guild Awards (a usual indicator) and he deserves the Oscar as well. The left-field upset here could be Steve McQueen for 12 Years a Slave. If either of these nominees win, history will be made: Cuarón would be the first Latino Best Director winner, and McQueen would be the first black Best Director to win.
The nominees:
David O. Russell, American Hustle 
You know it's a tough category when Tom Hanks doesn't make the nominations cut for either of his buzzworthy performances (Captain Phillips or Saving Mr. Banks). Leonardo DiCaprio has been campaigning like never before (see, SNL) and probably should have already won (see, What's Eating Gilbert Grape, The Departed, Django Unchained, Titanic), but the McConaughey force is almost unstoppable. Another serious contender here is Chiwetel Ejiofor for his performance in 12 Years a Slave, but the McConaissance is strong.
The nominees:
Christian Bale, American Hustle 
Best Actress, Cate Blanchett  (Blue Jasmine)
Heading into awards season Cate Blanchett was it, but the shadow of the Woody Allen scandal looms heavily over this category. Blanchett is still expected to win for Allen's Blue Jasmine, and an Oscar for her would add another win to a long list of actors who have won Oscars for roles in Allen's films. There are murmurs of an Amy Adams upset (she is the only nominee in the category who has never won), but Blanchett's portrayal of Jasmine is pantheon-worthy brilliant. 
The nominees:
Amy Adams, American Hustle 
Best Supporting Actor, Jared Leto (Dallas Buyers Club)
There is legitimate controversy about straight actors routinely playing queer roles (and then being lauded) but Leto is so brilliant as Rayon — a trans woman dying of AIDS — that he deserves to win, controversy or not. This category is one of the most predictable of the night.
The nominees:
Barkhad Abdi, Captain Phillips 
Best Supporting Actress, Lupita Nyong'o (12 Years a Slave)
There are only two real contenders in this category: Jennifer Lawrence and Lupita Nyong'o. Both women are adored by the media, with Lawrence having one of the biggest years an actor could hope for and Nyong'o flooring audiences in her film debut. While Lawrence transformed what could have been a predictable character in American Hustle into something show-stopping, Nyong'o deserves the win. Her portrayal of Patsey is effective in its distance and then finally in its terrifying and violent intimacy.
The nominees:
Sally Hawkins, Blue Jasmine 
The winner in this category should be Hans Zimmer for 12 Years a Slave — a film whose music was as important as it's actors — but unfortunately he wasn't nominated. The category includes the only nominations for both The Book Thief (John Williams) and Saving Mr. Banks (Thomas Newman), but signs point to a win by Steven Price for Gravity. Just listening to the Gravity soundtrack out of context provides the heart-racing anxiety that drives the film.
The nominees:
John Williams, The Book Thief
If the adoration of the world's 4-year-olds is any indicator, Frozen is it. Frozen has had a record breaking year with a soundtrack sitting atop the charts and box office numbers that have topped $1 billion. The darkhorse in this race is Miyazaki's The Wind Rises but it feels like Frozen's to lose.
The nominees:
The Croods
Best Foreign Language Film, The Great Beauty
Best Foreign Language Film is a very tough category this year, but Italy's The Great Beauty is the frontrunner. Many expected to see Blue is the Warmest Color in this category, but the film was ineligible for nomination due to its release date. The category was strong enough that great film's like Saudi Arabia's Wadjda and Iran's The Past didn't make the cut. Still, Italy looks poised to take this one home. 
The nominees:
Belgium: The Broken Circle Breakdown
Best Original Screenplay, Spike Jonze (Her)
If this award were determined by sheer originality, Jonze would win in a landslide. The real competition here is American Hustle writing duo Eric Warren Singer and David O. Russell. Neither Russell nor Jonze have ever won, but after a nomination and a loss last year for Silver Linings Playbook the Academy could think it's Russell's moment. Of course, Jonze won the category at the Golden Globes, Critics Choice Awards and Writer's Guild Awards. 
The nominees:
Eric Warren Singer and David O. Russell, American Hustle 
The award went to Billy Ray for Captain Phillips at the Writer's Guild Awards but 12 Years a Slave wasn't eligible there. Sunday night, the Oscar will likely go Ridley's beautiful and verbose adaptation of Solomon Northup's memoir. If Ridley wins, he will be the second black screenwriter to ever win in this category (Geoffrey Fletcher won a screenwriting award in 2009 for Precious).
The nominees:
Richard Linklater, Julie Delpy and Ethan Hawke, Before Midnight
Best Cinematography, Emmanuel Lubezki (Gravity)
If an award is for sight or sound, it is going to be very, very hard to best Gravity. The space saga will likely win here, which will be the first Oscar for cinematographer Emmanuel Lubezki.
The nominees:
Philippe Le Sourd, The Grandmaster
Best Costume Design, Catherine Martin (The Great Gatsby)
At the Costume Designers Guild Awards Blue Jasmine won for contemporary and 12 Years a Slave for period. While Blue Jasmine likely is not showy enough for an Oscar, 12 Years a Slave is very much in the running. Other contenders here are American Hustle (which could win just because it looks like it will be losing in most other categories) and The Great Gatsby, which I'm pegging as the winner. Martin, the costume designer for Gatsby, is also nominated for production design on the film. Rockstar status.
The nominees:
Michael Wilkinson, American Hustle
Best Production Design, Catherine Martin and Beverly Dunn (The Great Gatsby)
Production Design and Costume Design often go to the same film. The Great Gatsby is flashy enough for Oscar voters to really glom on to the visuals, though Her creates a unique world that might also get voters excited. I'm predicting a double whammy win for Martin.
The nominees:
Judy Becker (Production Design); Heather Loeffler (Set Decoration), American Hustle
The only film on the nominee-list with box office power was 20 Feet From Stardom, a film about backup singers in American music. Other big contenders are The Square (which won the Director's Guild Award) and The Act of Killing.  
The nominees:
The Act of Killing
Documentary Short, The Lady in Number 6: Music Saved My Life
The Lady in Number 6: Music Saved My Life is poised to win. The film, about the world's oldest living Holocaust survivor, is a fan and critical favorite. Alice Herz Sommer, the 110-year-old subject of the film, passed away on Feb. 23 right in the middle of Oscar voting.
The nominees:
CaveDigger
It's a toss up here between Gravity and Captain Phillips. Christopher Rouse, the editor behind Captain Phillips won the American Cinema Editors award this year and also won an Oscar in 2007 for his work on The Bourne Ultimatum. If voters are looking to give Captain Phillips a win it could be here.
The nominees:
Jay Cassidy, Crispin Struthers and Alan Baumgarten, American Hustle
I want Bad Grandpa to win just so the presenter has to say the film's ludicrous name on the Oscar's stuffy stage. Still, Dallas Buyers Club feels like the more realistic choice. 
The nominees:
Adruitha Lee and Robin Matthews, Dallas Buyers Club
Best Original Song, "Let It Go" (Frozen)
"Let It Go" has been streamed on YouTube more than 115 million times and has gone completely viral with singers around the world recording the song. If that does not an Oscar winner make, then I don't know what does.
The nominees:
"Alone Yet Not Alone"; Alone Yet Not Alone
Best Animated Short, Get a Horse!
The short throwback, featuring Mickey Mouse as he tries to save Minnie from Peg-Leg-Pete, was paired with Frozen in theaters and thus has a built in audience of millions. It's also just the type of moviemaking nostalgia that voters will likely go for.
The nominees:
Feral 
Best Live Action Short, The Voorman Problem
A very difficult category to predict, The Voorman Problem has a leg-up for the simple and perhaps silly reason that it is not subtitled, making it more accessible to voters.
The nominees:
Aquel No Era Yo (That Wasn't Me) 
Best Sound Editing, Glenn Freemantle (Gravity)
When it comes to sound, it will be nearly impossible to beat Gravity. The films use of sound is as effective in noise as it is in silence. It is a feat.
The nominees:
Steve Boeddeker and Richard Hymns, All Is Lost 
Best Sound Mixing, Skip Lievsay, Niv Adiri, Christopher Benstead and Chris Munro (Gravity)
Another category that Gravity will have a hard time losing. Note Skip Lievsay and Chris Munro both nominated twice in this category. Impressive.
The nominees:
Chris Bourdon, Mark Taylor, Mike Prestwood Smith and Chris Munro, Captain Phillips
The cherry atop Gravity's massive Oscar cake.
The nominees:
Tim Webber, Chris Lawrence, Dave Shirk and Neil Corbould, Gravity