12 Stunning Then-and-Now Photos From California's Historic Drought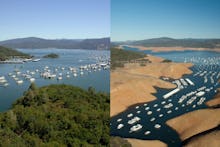 California is in a drought State of Emergency.
Last year was already the state's driest in recorded history, and 2014's early trends offer little in the way of resolution. Officials have said that statewide snowpack — that melts and provides about one-third of the water used for cities and farms — was at roughly 20% of its normal level. Numerous crops are in danger of severe undernourishment, while recent historical trends, coupled with the additional effects of global warming, indicate that this is the worst drought California has faced in a very long time.
To get a better sense of how this actually looks, this alarming image is a good start. But now, the California Department of Water Resources has released several more comparison photos of Lake Oroville and Folsom Lake. These stunning photos of Lake Oroville from Jan. 16 show the body of water at 36% of its total capacity, which marks 57% of its historical average for that date.
Other photos from the same date show Folsom Lake at 35% of its historical capacity average, which is the second lowest reading since 1988. (In 1991, the lake was at 16% of total water storage.) Bodies of water in Northern California, like Folsom, Oroville Trinity Lakes and the Shasta Reservoir, are being hit the hardest.
"We can't make it rain, but we can be much better prepared for the terrible consequences that California's drought now threatens, including dramatically less water for our farms and communities and increased fires in both urban and rural areas," Governor Edmund G. Brown, Jr. said in a statement. "I've declared this emergency and I'm calling all Californians to conserve water in every way possible."
Of course, it's smart to use this situation as a lesson and opportunity to become better prepared for the future. But as the governor himself said, "We can't make it rain."
Take a look at these devastating comparison photos for yourself:
Image Credit (all): California Department of Water Resources