This Was the Secret Trap Door That Joaquin "El Chapo" Guzman Had to Escape Police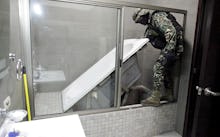 Say what you want about captured Sinaloa Cartel drug lord Joaquín "El Chapo" Guzmán Loera, but he's crafty as hell. Recent media has revealed how he evaded Mexican police and security forces for 13 years — an elaborate tunnel network built into the sewers and drainage infrastructure connecting up to seven safehouses in the city of Culiacan, the capital city of Sinaloa, Mexico.
Mexican marines in cooperation with American DEA agents discovered the tunnel network after the drug lord's communications chief Carlos Manuel Ramirez was tracked to one of the safehouses. By the next day, an arrested courier had informed authorities of the safehouses and the network connecting them. At each house, Mexican security officials found steel-reinforced doors, security cameras and an escape hatch built into the bathtub. El Chapo fled south to the resort town of Mazatlán, leaving behind "grenades, rifles, ballistic vests and armored cars" to the authorities in a frenzied rush to evade encroaching Mexican marines. But another arrested associate, Manuel Lopez Ozorio, admitted to authorities that he had helped El Chapo, Ramirez and an unknown woman flee from the exit of the tunnel sysem and travel to Mazatlán.
From there, an ICE wiretap manned by agents in southern Arizona finally pinpointed El Chapo's beachfront residence, which was then stormed by security forces. El Chapo had an assault rifle, but surrendered without firing a shot.
"It just all came together and we got the right people to flip and we were up on good wire," a government official told the Associated Press. "The ICE wire was the last one standing. That wire in Nogales. That got him (Guzman) inside that hotel."
While other members of the Sinaloa cartel have been caught after flaunting their wealth (even on social media), the high-priority Guzman chose to live a low-profile, demure existence while on the run. Each of the safehouses is modest for a drug trafficker worth over a billion dollars, the price of living on the lam after escaping from prison in a laundry cart pushed by bribed guards in 2001. Now, El Chapo is under some of the world's heaviest security to prevent another escape.
CNN's Nick Parker took a tour of the tunnel network and several of El Chapo's safehouses, revealing just how much time and effort went into crafting the network and keeping it inconspicuous.
Some more photos of the drug lord's elaborate tunnel network below:
For more on the Sinaloa cartel and the brutal, bloody corporatization of the cocaine industry, check out Patrick Radden Keefe's profile in the New York Times here.