Kentucky Is Moving Forward With Its Noah's Ark Theme Park — And It Will Get State Tax Breaks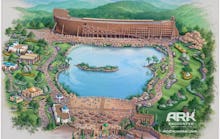 The news: Though the project was stalled for years, soon you'll be able to see Noah's Ark with your very own eyes — and I don't mean the Russell Crowe movie.
Kentucky's Answers in Genesis Christian ministry has teamed up with the Creation Museum for Ark Encounter, a project to build a life-sized model of Noah's Ark, the vessel described in the Bible's book of Genesis that saved two of every animal from a flood.
The project was originally announced in 2010, but funding delays put things on hold. However, Creation Museum founder and Answers in Genesis leader Ken Ham announced Thursday that a municipal bond offering had raised enough money to keep construction of the estimated $73 million project going. Groundbreaking is planned for this May, and the ark is expected to be finished by summer 2016.
Of course, there's nothing wrong with a private organization building something using privately donated money on privately held land. But here's where it gets interesting: When the Creation Museum first announced this project, it also applied for tax credits from the Kentucky Tourism Development Finance Authority. These were approved in May 2011 for up to $43 million in state tax incentives over a 10-year period — money that actually applies to an entire Ark Encounter theme park, of which the life-sized ark model would be the center piece.
The background: In 2011, the tax credit decision was swiftly and unanimously passed and defended by Governor Steve Beshear, who said the state could not deny an application on religious grounds, and that the park would generate hundreds of new jobs and revenue streams. However, critics like Rev. Barry W. Lynn, executive director of Americans United for the Separation of Church and State, were less pleased, saying, "The state of Kentucky should not be promoting the spread of fundamentalist Christianity or any other religious viewpoint. Let these folks build their fundamentalist Disneyland without government help."
Since then, the project has faced a number of speed bumps, but Ham said his high-profile evolution debate with Bill Nye the "Science Guy" on Feb. 4 helped boost support. Shortly after the debate, Ham and his ministry were flooded with media attention that helped drum up the necessary funds from this recent bond offering. 
the Ark Experience would be moving forward, Nye said he was "heartbroken and sickened for the Commonwealth of Kentucky," and that "voters and taxpayers in Kentucky will eventually see that this is not in their best interest." However, when asked if he might be criticized for indirectly funding the ark boosting its profile the Feb. 4 debate, Nye answered, "Me? I've always been criticized."
Plans for the ark itself reveal that it will be something of a museum, combining old world details with exhibits and features to teach visitors the story of Noah's Ark.
If you have 45 minutes to spare, you can watch Ham and company discuss Ark Encounter's current financial and design situations:
And here's a clip of Ham from a few years ago talking about plans for the project:
The takeaway: While the Creation Museum has been raising money through a number of channels — like allowing people to sponsor pieces of the ark— that $43 million in taxpayer money will go a long way toward funding the controversial project. Of course, the museum is entitled to do whatever it wants with donor money, but when Kentucky taxpayers get involved, serious questions regarding the separation of church and state are raised .
Ham might need a pretty big ark to get out of this one.