While You Were Sleeping, Things Escalated Fast in Ukraine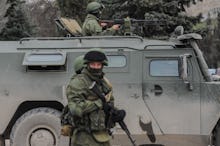 The news: By this point, you know that shit has gotten pretty real in Ukraine. But in just the past 24 hours, several developments in particular have made it abundantly clear that the situation in the country is only heating up.
First, there were more developments in the story of the strange masked gunman patrolling the streets of Crimea. As PolicyMic's Eileen Shim recently reported, the group of about 50 soldiers — reportedly calling themselves the "People's Militia of Crimea" — arrived on Thursday. Reports cited that they seemed to be pro-Russian forces. However, with no official markings or insignia, it's not entirely clear who or what these armed men represent. There was some speculation that the men might be Ukrainian mercenaries working for Russia. When confronted by a CNN reporter, the militia men were unresponsive.
Since then, in a major turn of events, Russia's Upper House of Parliament approved the use of armed forces in Crimea. After Russian lawmakers urged Russian President Vladimir Putin to take measures to stabilize the situation in Crimea to protect the Russian-majority population, Putin asked the Federation Council to approve the use of armed forces in the Crimea "until the normalisation of the socio-political situation in that country."
In a statement, Sergei Aksenov, the pro-Russian prime minister of Crimea, declared himself in charge of the armed forces, the police, the national security service and border guards, saying, "Understanding my responsibility for the life and security of citizens, I appeal to the President of Russia Vladimir Putin for assistance in guaranteeing peace and calmness on the territory of the autonomous republic of Crimea." (Note that he referred to his territory as the "autonomous republic of Crimea.")
While this doesn't necessarily guarantee the start of an invasion, allowing the use of force seems to indicate that conflict could shortly follow. The troops took control of key airports in Crimea on Friday, allowing Russian transport planes to fly into the region, a strategically important spot were Russia to actually attempt an invasion. Because of this, Ukrainian officials have accused Russia of a "military invasion and occupation," a claim that could deeply heighten tensions in the already tenuous region. 
The sign reads "Crimea Russia." Image Credit: AP
But it's not only Ukrainian officials who believe these actions could be the first signs of a Russian invasion. At a press conference on Friday, President Obama bluntly warned Russia of the potential and unspecified "costs" of any military intervention in Ukraine. 
"We are now deeply concerned by reports of military movements taken by the Russian Federation inside of Ukraine," Obama said in the press conference. "Just days after the world came to Russia for the Olympic games, it would invite the condemnation of nations around the world. And indeed, the United States will stand with the international community in affirming that there will be costs for any military intervention in Ukraine."
Obama speaking Friday on the situation in Crimea. Image Credit: AP
While Obama didn't specifically say what, if any, kind of U.S. retaliation Russia might face for an invasion, a senior U.S. official said Washington could boycott a major international summit scheduled for June in Russia and reject Moscow's efforts to promote trade with the United States.
The president also reaffirmed the fact that while it's not 100% clear that Russia is planning on any type of invasion, the signs point to the affirmative and said "any violation of Ukraine's sovereignty and territorial integrity" would be "deeply destabilizing" and amount to a "profound interference."
But while Obama may still be playing his cards close to the vest, Senator John McCain (R-Ariz.) has been much more forthcoming about his thoughts, telling TIME on Friday "we are all Ukrainians" and calling for swift U.S. economic aid to Ukraine, sanctions against Russian officials, condemnation of Russia at the United Nations and even the installation of U.S. missiles in the nearby Czech Republic.
"[Russian President Vladimir Putin believes] this is a chess match reminiscent of the Cold War and we need to realize that and act accordingly," McCain said. "That does not mean I envision a conflict with Russia, but we need to take certain measures that would convince Putin that there is a very high cost to actions that he is taking now."
Image Credit: AP
McCain's "we are all Ukrainians" is very similar to his 2008 statement as the then Republican presidential candidate, "we are all Georgians," in response to Russia's invasion of neighboring Georgia. McCain said he feels the same way about Ukraine now as he did about Georgia then.
"We are all Ukrainians in the respect that we have a sovereign nation that is again with international boundaries ... that is again being taken in as part of Russia," he said. "That is not acceptable to an America that stands up for the rights of human beings. We are Georgians. And we are Ukrainians."