Pharrell, Your Capri Tuxedo Pants Are a Gift From the Gods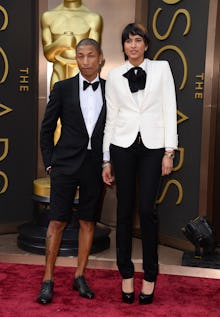 Pharrell has done it again. First it was a hat that put every other hat on planet Earth to shame. 
Tonight at the Academy freaking Awards its a capri tux by Lanvin. Maybe it's a clam digger tux? Pedal pusher tux? Bottom line, Pharrell is wearing legitimately 3/4 length tuxedo pants. 
With his album dropping at midnight, Pharrell has definitely found yet another fashion-forward way to get noticed and get some album buzz-a-brewing. We're waiting for you Pharrell's pants Twitter handle.