5 Super Successful Companies Started by State College Grads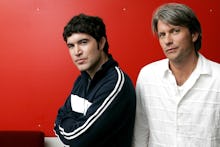 To have a legendary entrepreneur story today, it seems you either have had to attend an Ivy League university or drop out of one. But the truth is, some of the most successful entrepreneurs graduated from state college.
Below are five great entrepreneurs who went the public school route and ended up making millions:
1. Chad Hurley, the mastermind behind YouTube, graduated from Indiana University of Pennsylvania.
Hurley already knew he was interested in technology while in high school, when he was a member of the Technology Student Association.
Seven years after he graduated from Indiana University of Pennsylvania with a bachelor's degree in Fine Arts, Hurley sold YouTube to Google for $1.65 billion.
2. Tom Anderson and Chris DeWolfe both went to state universities before founding MySpace.
Before Facebook, Anderson and DeWolfe were at the top of everyone's friend lists. And even earlier on, they were students at the University of California and the Unviersity of Washington.
Anderson attended both the University of California-Berkeley and University of California-Los Angeles, frontmanning a band and traveling to Taiwan before earning his degree. However, it's pretty clear that he already knew his way around the Internet before his college days: He was the head of a hacker group at the age of 14, and is notorious for hacking into Chase Manhattan Bank's information before he ever finished high school. 
DeWolfe attended the University of Washington for his first four years of college study and received his MBA from the University of Southern California. Currently, he is the CEO of the Social Gaming Network (SGN). 
3. Businessman Mark Cuban graduated from Indiana University before starting MicroSolutions, Broadcast.com and AXS TV.
Cuban is a self-made serial entrepeneur worth an estimated $2.6 billion. Much of his business-savviness comes from his education at Indiana University.
Today, Cuban is the owner of the National Basketball Association's Dallas Mavericks, Landmark Theatres and AXS TV (formerly HDNet). He's also one of the shark investors on ABC's reality pitch show Shark Tank.
4. Google founders Sergey Brin and Larry Page attended state schools before they met at Stanford.
It's a well-known fact that Page and Brin, co-founders of Google, met at Stanford, but the two actually received bachelor's degrees from state schools.
Brin attended the College of Engineering at the University of Maryland, where his father taught mathematics.
Page, born in East Lansing, Michigan, was also raised by professors. He received his bachelor's degree from the University of Michigan in computer engineering. 
5. Robert L. Johnson attended the University of Illinois, founded Black Entertainment Television and became the first African-American billionaire.
Johnson founded Black Entertainment Television (BET). Before he went to receive his master's degree from Princeton, he went to the University of Illinois where he was a fraternity member of Kappa Alpha Psi.
In 2000, Viacom purchased BET for $2.34 billion, making him the first African-American billionaire, according to NewsOne.