These Are the Incredible Next Projects From 2014 Oscar Winners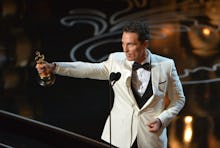 Oscar night can be a bittersweet time — amidst the glitz and the glamour is the knowledge that some actors won't ever be so successful again. For many, a nomination or a win is only the beginning (looking at you, Meryl), but others fade swiftly after their awards.
But this year's winners seem primed for success. From starring in animated movies about dragons to yet another epic film about outer space, here's where you'll see this year's winners in the next year:
1. Alfonso Cuarón — 'Believe'
Like any self-respecting star these days, Cuarón is moving to TV by directing the pilot for the upcoming NBC drama Believe. Besides that, though, he has no new films on the horizon.
That's par for the course for him: Cuarón took a seven-year gap between Children of Men and Gravity. Like great directors such as Stanley Kubrick and Terrence Malick before him, Cuarón likes to take his time — and always with amazing results. 
2. Matthew McConaughey — 'Interstellar'
Matthew McConaughey was recognized for his role in Dallas Buyers Club, but he's turned in a ridiculous number of good performances this year. And the McConaissance doesn't end with the Oscars: Season one of True Detective is only ramping up on HBO.
But while everyone's favorite Texan unfortunately will not be in the second season of TV's best new drama, you can see him in Christopher Nolan's Interstellar in November. 
3. Cate Blanchett — 'How to Train Your Dragon 2'
After winning her second Oscar, Cate Blanchett is pretty clearly sticking around. That's all the more evident from her stacked line-up this year.
You can see her in big tentpole films such as How to Train Your Dragon 2 and the new Hobbit (weirdly, both films featuring dragons pretty prominently). But in the more serious world, she will also star in the new Terrence Malick film Knight of Cups about which we know only the following plot description: "a man, temptations, celebrity, and excess." While that doesn't make much sense, it feels just about right for a Malick film. 
4. Jared Leto — 30 Seconds to Mars
Leto has no new projects listed as of now, but based on his speech last night and his tour schedule, it looks like his band 30 Seconds to Mars has some big things planned. They're certainly a band worth watching.
As far as film goes, he has a pretty promising track record — even before Dallas Buyers Club, he was in My So-Called Life, Fight Club, Requiem for a Dream and American Psycho.
5. Lupita Nyong'o — 'Non-Stop'
This year's biggest breakout star is already back in action, albeit in a slightly different film than 12 Years a Slave. She's starring alongside Liam Neeson in the thriller Non-Stop, and she's still badass.
6. John Ridley — 'All Is by My Side'
John Ridley is now the only one of tonight's winners who can call himself "the Academy Award-winning writer of Undercover Brother." Yet, Ridley is deciding to stick with more serious fare: He directed All Is by My Side, the upcoming Jimi Hendrix biopic starring André 3000. 
7. Spike Jonze — Musing
After Her, Spike Jonze is the guy everybody is asking about. He's also the hardest winner to pin down. He had a very busy 2013. Besides Her, he was also involved in Bad Grandpa and The Wolf of Wall Street. He is one of the most hardworking guys in Hollywood, and he has more range than anyone else (who else can direct Her and Bad Grandpa in the same year?)
But Jonze is keeping his next plans tight to the chest. One can only imagine where the director of Her will go next.