While We Were Watching Ukraine, North Korea Fired Two Ballistic Missiles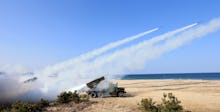 While the world was watching Ukraine, Venezuela or engaging in pre-Oscars gossip, North Korea launched two short-range ballistic missiles, the latest in a series of six missiles fired.
According to South Korea's semi-official news agency, Yonhap News, the missiles landed in the sea, about 300 miles away from South Korea. The missiles were shot from North Korea's eastern coast. 
Kim Jong-un is once again flexing North Korea's military strength, and is making sure South Korea and the U.S. hear his message loud and clear: "Watch out."
Forgoing the fax machine this time, North Korea decided to conduct its recent launch comes at a time when the U.S. and South Korea are conducting joint military drills, a not-so-coincendetal action. 
Things were looking hopeful for the two countries in 2013 when Pyongyang agreed to host the first reunion of families separated by the Korean War. But when North Korea caught wind of U.S.-South Korea military drills, Kim Jong-un threatened to cancel the reunion. Ultimately, North Korea backed down, but tensions between the two countries have continued to escalate. 
Just last week, North Korea fired four short-range missiles of its coast. Completely defying UN sanctions on missile testing and warnings from South Korea, Kim Jong-un isn't afraid to tout his military prowess. 
In addition to violating missile laws, North Korea violated sea agreements last week when it sent a military patrol boat within 15 miles of a South Korea's border island. (In military terms, that's point-blank range.) 
South Korea's Defense Ministry spokesman Kim Min Seok called the launches "a provocative act of saber-rattling."
Recent reports unveiled the extensive and abhorrent human rights abuses in the country, forcing the public to look more seriously at a leader largely known for his basketball antics. This week's acts of aggression remind the U.S. of when it was considering invading North Korea. U.S. and South Korea leaders reiterate, however, that they have no intention of invading the country. 
At odds with each other since the end of the Korean War in 1953, North Korea continues to actively protest the U.S. and South Korea's relationship. In fact, North Korea has fired missiles at its neighbor before, but such actions don't normally warrant a response or public announcement from the South. The North's recent acts of aggression, however, worry South Korea. 
"We believe that the North is testing various ballistic missiles with various ranges as a show of force to threaten us," Defense Ministry spokesman Kim Min-Seok said.
Isolated from the world, North Korea has virtually no diplomatic connections with the West, thus making its actions even more menacing. The Japan Red Cross Society met on Monday with their North Korean counterparts, signaling hope could be a round-about move at political discourse. 
South Korea remains on high alert. But that hasn't stopped the less-aggressive Korea from taking action. South Korea recently admitted it was actively targeting North Korea, preparing for a cyber attack to weaken the North's nuclear capabilities. Now, the international community is wondering if the demilitarization zone between the two Korean countries is shrinking. 
Correction (3/4/2013): This article has been updated due to a previous factual inaccuracy. North Korea did launched missiles, but not directly at South Korea, as previously suggested.