The Amazing Celebrity Oscars Photo You Didn't See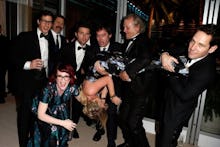 Ellen DeGeneres' now-legendary Oscar selfie might never be topped in terms of pure star power. But for sheer Hollywood insanity, it's hard to beat this candid shot taken at the Vanity Fair Oscar Party:
Image Credit: Imgur
No, you're not hallucinating. That's Bill Murray, Paul Rudd and Bill Hader holding Amy Poehler in a borderline-keg stand position. Andy Samberg looks relatively normal to the left, but Nick Offerman's "drunk dad" face and Megan Mullaly's "turn down for what?" pose more than make up for it. Not sure what's going on with Adam Scott, but his expression suggests he's done something absolutely unforgivable. 
While it's always a treat to witness a gathering of Parks and Recreation and former SNL cast members, the laws of the universe dictate that any and all photos are improved by the addition of Bill Murray. Throw Paul Rudd in there and you have an image that could give the "Mona Lisa" a run for its money in a few hundred years.
But what truly sets this photo apart is its mystique. To quote Vanity Fair, "[We] have no idea what the context is." Audiences are therefore left to contemplate the cosmic implications of how these heavenly bodies converged, and more importantly, why.
Perhaps we'll never know. And maybe that's OK.