Why Virginia's Policy Allowing Trans Student Athletes Will Probably End Up Banning Them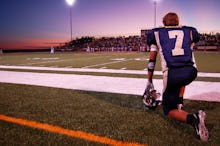 In February, the Virginia High School League (VHSL) approved a policy with the goal of ensuring that all students — transgender and cisgender — have the opportunity to participate in high school athletic competition. At first glance, this seemed like a positive, bold, progressive move by the Commonwealth State. Unfortunately, what the policy actually does is effectively ban transgender athletes from competition — the very opposite of what it claims to allow.
"It is a reality that there are transgender students who are interested in participating in athletics," VHSL executive director Ken Tilley told the Richmond Times-Dispatch. "It's something we recognize we need to be of service to our schools and our students."
Tilley and the VHSL are correct in their assertion that transgender students (and therefore transgender student-athletes) are a reality, but their approach to allowing their participation is flawed. It actually causing more harm than the good it purports to do. Here is the policy, as outlined by the VHSL:
A. A student-athlete will compete in the gender of their birth certificate unless they have undergone sex reassignment.B. A student-athlete who has undergone sex reassignment is eligible to compete in the reassigned gender when:1. The student-athlete has undergone sex reassignment before puberty, or2. The student-athlete has undergone sex reassignment after puberty under all of the following conditions:     a. Surgical anatomical changes have been completed, including external genitalia changes and gonadectomy.     b. Hormonal therapy appropriate for the assigned sex has been administered in a verifiable manner and for a sufficient length of time to minimize gender-related advantages in sports competition.     c. If a student-athlete stops taking hormonal treatment, they will be required to participate in the sport consistent with their birth gender.C. A student-athlete seeking to participate as a result of sex reassignment must access the VHSL eligibility appeals process.
For those unfamiliar with the realities of being transgender, these might seem like reasonable requirements. But in reality, they're anything but.
U.S. News & World Report noted that while at least 10 other states have policies allowing transgender athletes, Eliza Byard, executive director of the Gay, Lesbian & Straight Education Network, said that Virginia's is probably the most restrictive policy anywhere in the country and "not realistic."
"Surgical anatomical changes have been completed," the policy reads. This alone is enough to bar the vast majority of teen trans athletes from qualifying for athletics. Gender confirming surgeries are expensive, invasive and nearly impossible for anyone under 18 to access.
In fact, according to the World Professional Association for Transgender Health's Standards of Care, the blueprint the majority of medical providers follow when treating trans patients, genital surgery should only become an option for those who fit the below criteria:
Persistent, well-documented gender dysphoria;
Capacity to make a fully informed decision and give consent for treatment;
Age of majority in a given country;
If significant medical or mental health concerns are present, they must be well controlled.
12 continuous months of hormone therapy as appropriate to the patient's gender goals (unless hormones are not clinically indicated for the individual).
For one, the "well-documented gender dysphoria" limits access to families with the financial ability to access medical care, as does the "12 months of continuous hormone therapy" requirement. Requirements two and three eliminate anyone under the age of 18 from eligibility, as that is the age of majority in Virginia.
Compared to California's recently-implemented trans student law, which allows students to participate in athletics without having to undergo any type of medical intervention, Virginia's policy appears somewhat draconian, especially when one considers that even if a student were to succeed in jumping through the hoops outlined by VHSL, he or she would still need to apply for eligibility through the VHSL appeals process.
In the National Center for Transgender Equality and the National Gay and Lesbian Task Force's 2011 report "Injustice at Every Turn," only one-third of all transgender survey respondents had "surgically transitioned," meaning that most transgender people, regardless of age, haven't accessed the types of surgery required by the VHSL.
A common argument from those in favor of strict regulations is the fear that cisgender boys will merely say they're transgender in order to succeed on girls' teams. But that worry underscores a key misconception about the reality of being a trans athlete, opening athletes up to cruel criticism like the kind trans UFC fighter Fallon Fox has faced in the past.
The fact of the matter is that life isn't easy for trans athletes, and it certainly isn't easy for students. According to the National Transgender Discrimination Survey, 78% of transgender and gender non-conforming K-12 students reported being the victims of bullying and harassment as a result of their gender identity, 35% were physically assaulted at school, 12% were sexually assaulted. Also, 6% of students were expelled as a result of their gender identity and 15% were forced to drop out as a result of harassment and bullying. Unfortunately, teachers aren't much better than students when it comes to bullying, as 31% of students reported being harassed by teachers or school staff, and 3% of those students reported being sexually assaulted by a school employee.
Given these statistics, the suggestion that cisgender students would be coming out of the woodwork to compete with an unfair advantage is disingenuous and not supported by any solid data. Navigating the school system as a trans student is hard enough. These kids should be able to participate in their school's extracurricular activities without absurd medical requirements.