Gays in Lebanon Just Snagged a Major Victory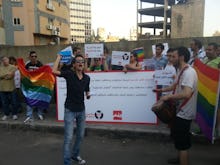 LGBT rights activists in Lebanon are celebrating a historic ruling that reversed the criminalization of gay sex in Lebanon. The case, which concluded in January, was released on Tuesday in Legal Agenda, a quarterly magazine published by an NGO of the same name.
Judge Naji El Dahdah, of Jdeide Court, Beirut, threw out the case in which the Lebanese state accused a transgender woman of having a same-sex relationship with a man, on Jan. 28. The verdict relied on a December 2009 ruling by Judge Mounir Suleiman that consensual homosexual relations were not "against nature" and could therefore not be prosecuted under Article 534 of Lebanon's penal code, which prohibits sexual relations that are "contradicting the laws of nature," and makes them punishable by up to a year in prison. "Man is part of nature and is one of its elements, so it cannot be said that any one of his practices or any one of his behaviors goes against nature, even if it is criminal behavior, because it is nature's ruling," Suleiman said.
Suleiman's 2009 ruling was a result of a legal campaign led by LGBT organization, Helem (an Arabic acronym for "Lebanese Protection of Lesbians, Gays, Bisexuals and Transgenders") of which annulling Article 534 was a primary goal. "It's a big step; it shows we're moving in the right direction," Helem co-founder and prominent LGBT rights activist Georges Azzi told the Daily Star. "The more we have decisions like this, the more Article 534 becomes irrelevant. Any legal change takes a lot of time but at least this article might stop being used to persecute gay and transgender people in Lebanon," he said.
This is, without a doubt, a major milestone in LGBT rights in conservative Lebanon. According to Pew Research, as of 2013, an overwhelming 80% of the Lebanese public believes homosexuality should not be accepted by society, while 18% believes it should be accepted by society.
But still, the country's LGBT rights victories are mounting, slowly but surely. Last year, the Lebanese Psychiatric Society ruled that homosexuality is not a mental disorder and does not need to be treated. They even said that "conversion therapy" seeking to "convert" gays has no scientific backing — hear that, PFOX?
With the dedication of activists groups like Helem, which is the first organization in the Arab world to set up a gay and lesbian community center and has been praised for consistently breaking new ground in a country that criminalizes homosexuality where violence and abuse are persistent problems, the momentum to liberate gay, lesbian, transgender and bisexual people from persecution is not just alive in the U.S., but also in even some of the most religiously orthodox corners of the world.