Watch Marriage Equality Engulf the U.S. in This Powerful Map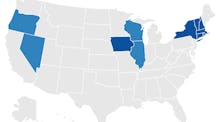 The approval of same-sex marriage has been gaining ground in the U.S. since 2003 when Massachusetts spearheaded the movement by recognizing same-sex marriage. But this map from Mother Jones shows the exponential momentum the movement has gained in the past two years:
In the years following Massachusetts' grounbreaking legalization, 15 other states and the District of Columbia eventually made same-sex marriage legal. As the map shows many of these victories have occured since 2012, around when President Obama became the first U.S. president to publicly support same-sex marriage while in office, and in 2013, after the Supreme Court ruled unconstitutional a section of the Defense of Marriage Act defining marriage as a union between a man and a woman.
Since then, six federal judges have declared state legislation against same-sex marriage unconstitutional (most recently in Texas just last week), which could pave the way for yet more states to jump on this bandwagon.
The recent momentum in terms of same-sex marriage is fantastic, but many in the LGBT community are now asking: Where do we go from here?
It's not a happily ever after ending yet. Significantly more than half of the states still don't recognize same-sex marriage, with the vast majority of those still holding a constitutional ban against the union and many fighting against last summer's federal ruling.
And moving beyond the fight for marriage equality, there is a shift is happening toward the broader goal of universal equality.
The Employment Non-Discrimination Act, which would prohibit hiring and workplace discrimination on the basis of gender identity and sexual orientation, has been circling Congress without success since 1994. Meanwhile, transgender Americans have been left unprotected from discrimination in states across the U.S., and they still cannot serve in the U.S. military. HIV rates are still too high in certain segments of the LGBT population, as is homelessness and poverty. And then there are the problems facing the undocumented LGBT community.
"Marriage equality has helped advance more understanding and acceptance of the LGBT community," Dan Furmansky, a Silver Spring-based LGBT and social-justice activist told Metro Weekly in November. "The larger issue we should address is: How best can we leverage the resources we can get our hands on?"