The City You'd Least Expect Has Just Decriminalized Marijuana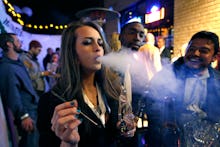 Lo and behold: Washington, D.C., the capital of the United States and the center of federal government, has decriminalized the possession and consumption of small amounts of marijuana.
By a near-unanimous vote, the D.C. city council has decided to eliminate laws that made possession of up to an ounce of marijuana a criminal offense punishable by a fine of $1,000 or a six-month prison sentence. When the new regulations go into effect this summer, possession will be punishable only by a fine of $25; public consumption will remain a misdemeanor, but with a maximum fine of $500 or 60 days in jail. D.C. joins the 17 states that have decriminalization laws on the books, and has become one of the most lenient cities in the country when it comes to marijuana offenses.
"This means that, outside of Washington and Colorado, marijuana penalties are now less punitive in our nation's capital than anywhere else in the country!" Marijuana Policy Project federal projects director Dan Rifle wrote in an open-letter.
Council member Tommy Wells, chief sponsor of the legislation, says, "This is a major step since we are the nation's capital, and I am proud of that."
Image Credit: Washington Post
And it's particularly important because the capital was, until now, one of the worst theaters in the pointless war on drugs. D.C. police made 846 marijuana possession arrests per 100,000 residents in 2010; that number was 256 per 100,000 nationally. And even more disturbingly, the Substance Abuse and Mental Health Services Administration says that blacks nationally were 3.73 times more likely to be arrested for marijuana possession than whites despite similar rates of use. In D.C., that rate increased to 8.05 times more likely.
This change will affect all Millennials by setting a precedent that marijuana reform can occur on the Eastern seaboard, a region that has previously struggled to build momentum around changing drug laws. It could even keep you out of jail. According to the National Survey on Drug Use and Health, 20-30% of 18 to 29-year-olds reported having used marijuana in the past year in 2011, and 57% said they'd used it at least once in their life.
Drug war hardliners had better brace themselves, because change — at least for marijuana — is coming.