Sorry, Cate Blanchett's Oscar Speech Wasn't a Feminist Triumph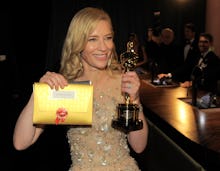 The Academy Awards aired this past Sunday, and social media was aflutter with the usual awards show commentary — red carpet fashion, winner predictions and ... feminism?
As Cate Blanchett accepted an Oscar for her role in Blue Jasmine, the star admonished, "Those of us in the industry who are still foolishly clinging to the idea that female films with women at the center are niche experiences." She lamented that the "world is round," a not-so-subtle nudge to Hollywood that there's an ideological disparity preventing female actresses from being equally represented.
The speech immediately garnered praise for preaching equal opportunity principles, but those heralding Blanchett shouldn't be so quick to pat her on the back. Only seconds before she called out the sexist film industry, she thanked Blue Jasmine director Woody Allen for casting her in the film, a signal of gratitude lost by no one in the audience (slow clap, anyone?). By thanking Allen, someone whose status has arguably allowed him to enjoy the benefits of the sexism that she's speaking out against, Blanchett seriously undercut her credibility and what could have otherwise been an empowering speech about women in the film industry.
Since 1965, Woody Allen has been credited with writing and directing dozens of award-winning movies. A four-time Oscar winner, Allen's list of accolades is almost gratuitously long. Nine of these awards, including the Cecil B. DeMille Award at this year's Golden Globes for lifetime achievement, were achieved after 1992, the year allegations first surfaced that Allen had sexually abused his adopted daughter Dylan Farrow.
Let's be perfectly clear: Woody Allen was never formally convicted of sexually abusing Dylan Farrow. But for many, the evidence is alarming, especially details of a New York judge's 33-page decision, part of a drawn out custody battle between Dylan's mother, Mia Farrow, and Allen. Compounding such damning allegations is a 1976 People magazine profile on Allen in which he stated he was open-minded about sex: "I'm not above reproach; if anything, I'm below reproach. I mean, if I was caught in a love nest with 15 12-year-old girls tomorrow, people would think, yeah, I always knew that about him."
While these types of scandalous — if not downright incriminating — revelations might create negative repercussions for some, the Dylan Farrow allegations have had little effect on Allen's long and prosperous career. In this regard, Allen, a man, is benefiting from a Hollywood double standard that conveniently overlooks this type of bad behavior.
He's not the only male celebrity afforded the privilege of operating within such a system. Bill Cosby had accusations of drugging and sexually assaulting women received national coverage several years ago. Although multiple women accused Cosby of similar assaults, the comedian has yet to shed his image as the funny Huxtable patriarch and is still fondly remembered as a beloved figure. Then there's the case of R. Kelly, who, like Allen, was never formally charged with sexual assault and remains a central, Grammy-nominated figure in the music industry. It's clear that there's a high level of tolerance when it comes to sexual assault allegations leveled against lucrative entertainers, who are often allowed to prosper in the midst of victim statements.
In her open letter published by the New York Times a week after the Oscar nominations were announced, Dylan Farrow urged Allen actors, including Blanchett, to rethink their commitment to his legacy in light of the allegations. "What if it had been your child, Cate Blanchett? Louis C.K.? Alec Baldwin? What if it had been you, Emma Stone?"
Following this newest chapter in the Allen saga, some journalists gave Blanchett speech advice should she win Best Actress for her role in his latest film, one that's grossed upwards of $33.3 million since its release last summer. Chloe Angyal called on Blanchett to not accept the Oscar at all, while Salon's Daniel D'Addario recommended that if she did win, "it'd be better to hold off" on praising Allen.
However, Dylan's words seemed to evade Blanchett. In early February, she received the Outstanding Performer of the Year Award at the Santa Barbara Film Festival, and in discussing the allegations with Hollywood Elsewhere columnist Jeffrey Wells, she said, "It's obviously been a long and painful situation for the family, and I hope they find some sort of resolution and peace."
During this year's SAG awards, Blanchett thanked Allen for "writing role after role after role for women, and then giving them the space to create them." Her framing of Allen as some kind of pro-women, gender equal poster child echoed those of Diane Keaton, who accepted the Cecil B. DeMille Award on Allen's behalf at the Golden Globes.
There's something deeply unsettling about praising Allen's commitment to female characters in the backdrop of sexual abuse allegations, particularly in the framework of his profitability. In Blanchett's case, it's dishonest to speak out against industry sexism, yet play an active role in perpetuating the culture that enables its success. Railing against Hollywood as just needing to be more gender equal fails to address the industry's stake in protecting the careers of entertainers like Allen who are household names, yet exist in a duality of legendary filmmaker and accused abuser. Going so far as to thank him in the same speech that urges Hollywood to retain more feminist principles is just plain hypocritical.
While the jury may be officially out on formal charges, those of us who call for an end to inequality should be honest about who we're aligned with.