9 Incredible Photos of the London Underground as a Bomb Shelter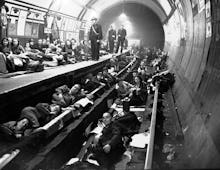 It's 3 a.m. on a weekend, and you're stuck on a desolate subway platform waiting for the faint rumbling of the next train. If you're a city dweller, you've probably been there. But imagine being stuck below ground among the free-roaming vermin and damp discomfort for nights on end.
That's what many Londoners did during World War II. The tunnels of London's public subway were used as air raid shelters to escape the continuous Luftwaffe bombings on the city. People would buy tickets for the train and camp out on subway platforms for the night because they felt safest deep underground.
The stations were also used for shelter during World War I. According to police at the time, 300,000 Londoners took shelter in underground stations.
Some tube stations were equipped with bunks for 22,000 people, first aid facilities and chemical toilets.
These incredible photos show what these shelter-seeking Londoners had to endure and how they made the best of this terrifying ordeal:
1. Londoners sleep on stationary escalators in a tube station
2. People sleeping in Piccadilly Circus station
3. Londoners asleep on the platform and tracks of Aldwych station
4. Members of the public enjoying a concert held by ENSA
5. Children sleeping in hammocks strung between the train tracks
6. Children asleep on the platform
7. Playing cards to pass the time
8. Cramped quarters, but safer than being above ground
9. People line up to get coffee after spending time underground