Russia Is Losing Its Last Independent TV Station – Just When It Needs It the Most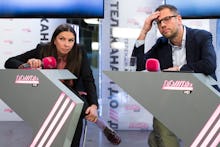 The only independently funded television news channel in Russia is going to disappear in a month. It's called Dozhd, or Rain, and it can be viewed on television with a cable package or online. The clips are available for free, and a live feed costs $30 per month.
This move doesn't look good for Russia's international reputation, as the Russian media becomes more notorious for its nationalist bias in the West. You might have heard that an American anchor, Liz Wahl, quit from Russia's English-speaking channel RT because she thought its coverage of Russian President Vladimir Putin's latest foreign policy decisions were skewed. Some people think she was poised to do this after Abby Martin, another anchor at RT, made an explicit statement against Putin's military action in Crimea on-air.
"I'm proud to be an American and believe in disseminating the truth. That is why, after this newscast, I'm resigning," Wahl said last week.
Wahl resigned because RT is funded by the Kremlin and has a reputation for being "whitewashed," as she described it. Arguably, most of the state-funded news channels in Russia are not any better. That's why Rain is so important. It's the only oppositional news channel in Russia.
For example, this story of how Putin's ban on gay propaganda affected a 9th grade lesbian who was indicted by her own classmate was investigated by Rain and no one else in the Russian media. A journalist from Rain's staff looked into an emotional post on Vkontakte, or In Touch, Russia's Facebook competitor, from the girl and heard it straight from her.
As pro-Russian troops have seized Crimea, Rain covers all sides of the conflict between Ukraine and Russia. They recently interviewed Russian author Vladimir Posner, who some in America might remember for his consistently publicized foreign policy commentary in perfect English during the Cold War. Rain published his comments about both Russian and American media:
"This patriotic rage that we're seeing and hearing, it will lead to nothing good."
The phrase "patriotic rage" would be caught dead in an RT story.
Rain is in trouble because in January, it ran an online poll asking its viewers if they thought that the Russians should have just surrendered when the Germans besieged Leningrad during World War II. This would have potentially saved the lives of everyone who was killed during the siege, as food and supplies were cut off from city residents for three years.
The siege is also known as the "Leningrad Blockade," and Russians remember it as a deep tragedy that ended with a profound victory. Remembrance of the blockade is such a point of nationalist pride for Russians, and the fact that Rain asked a hypothetical about it was reason enough to get the liberal news channel in a thunderstorm of trouble.
Image Credit: Wikimedia Commons. Leningrad during the siege in 1942.
Even though it took the poll down 30 minutes after it was posted, and the website editor offered an apology on Twitter for an "improper question," Rain lost 80% of its funding and was immediately dropped by several cable providers.
The Russian prosecutor general is conducting an investigation into "provocative material posted on the website of the [Rain] television channel ... and, if just cause is found, [will] take appropriate measures, including shutting down the channel." The channel's director, Natalya Sindeyeva, told the Kremlin's Human Rights Council last week that in a month, the channel is likely to close.
"Without a budget from advertisements and without the money from distribution that we've lost — and we've lost 80% of our income — we would never survive," she said.
At a time when America and Russia are warring over whose media is less biased, and when Russian authorities are censoring a television channel for daring to ask a hypothetical — and on the Internet, no less — doesn't fare well for Russia.
Russian author Lyudmila Ulitskaya wrote in the Guardian that Rain's poll is an illustration of how "the state is fostering an increasing sense of nationalism ... trying to create an image of our past in which everything was good ..." It's this very nationalism that frightens her about her own country.
To make matters worse, notoriously corrupt St. Petersburg politician Vitaly Milonov wants to take over the channel as CEO and editor-in-chief. According to him, he would be saving the channel.
Rain should be doing the opposite of shutting down. It should be receiving funding from American organizations to translate all its features into English. If Rain closes in a month, both Russia and America lose an irreplaceable source of information from Russia.
With relations between the two countries as tense as they are, Americans could benefit from an honest stream of stories originating from Russian journalists, as could Russians. Objective, or inquisitive at the very least, stories out of Russia would show that not all Russians are sugar-coating their international aggression and foreign policy decisions, as much as the American media is trying to make it seem like that is the case.