Before Lupita Nyong'o Was Famous, She Was Only Known As a Character in This MTV Show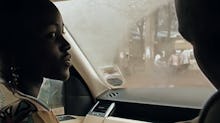 In what must have been a whirlwind few months, actress Lupita Nyong'o has officially exploded from random obscurity into public consciousness. Since 12 Years a Slave opened in November, the Yale School of Drama graduate (who booked the role weeks before graduation) became the talk of the town for her sublime portrayal of the long-suffering slave Patsey, as well as for her impeccable fashion taste.
Now that she scored her first Oscar for 12 Years a Slave, all eyes are on Nyong'o to see what she does next. While you can catch her right now on Liam Neeson's thriller Non-Stop, her small supporting role as a flight attendant on a hijacked plane is not the most splashy follow-up to Nyong'o's award-winning film debut. Nyong'o is still fielding offers for her next big project, but in the meantime, you can watch her in one of her pre-fame roles: the lead of a MTV Kenya miniseries called Shuga.
Other than a short film called East River, Shuga is Nyong'o's only acting credit before 12 Years a Slave. She starred in the show, which ran from from 2009 to 2012, as Ayira — a young, unapologetically ambitious and sexual waitress who is trying to climb to the top of Nairobi's social ladder.
The show was part of MTV Kenya's initiative to spark discussion on the AIDS crisis in Africa, and as such, featured frank portrayals of sex and youth life. The show became so popular that it aired outside of Kenya in other African nations:
You can watch the first episode of Shuga below and see her star in-the-making.