San Francisco Just Took a Huge Step Forward to Becoming a Zero-Waste City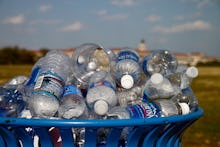 On Tuesday, San Francisco's Board of Supervisors voted unanimously to ban the sale of plastic water bottles on public property. The legislation is a major win for environmentalists and consumers who want to reign in the bottled-water industry.
The bill took nine months of negotiation and adjustments, including dealing with bitter complaints from industry advocates as well as environmentalists who sought even tougher provisions. Over the next four years, 21 ounce-or-less water bottles will be phased out from services operating on all public property both indoor and outdoor, impacting vendors, street fairs and food trucks, with limited waivers available if the ban poses an insurmountable difficulty. Violators could be punished with a $1,000 fine.
According to chairman Joshua Arce of the Environment Commission, the ban is "another step forward on our zero-waste goal," referring to the city's objective of achieving zero landfill waste by 2020. San Francisco's diversion rate is at an already-impressive 80%. Board of Supervisors president David Chu claims, "If we can do this on public property and folks understand that this is absolutely doable then we can look at next steps," such as restricting the sale of plastic-bottled water in other areas.
But the American Beverage Association calls the effort "nothing more than a solution in search of a problem. This is a misguided attempt by city supervisors to decrease waste in a city of avid recyclers."
"Water is good for you, and people should be able to choose how they drink it — whether from a tap, a fountain or a recyclable container. Bottled water is the purist, safest and cleanest water possible," said the ABA's statement.
But it's really not. There's "very little empirical evidence" to say bottled water is any healthier than tap water, and about 70% never crosses state lines, making it exempt from FDA oversight. And it's costly: 47 million gallons of oil per year are required to produce water bottles, and while they're highly recyclable, more than 80% of them are simply tossed in the trash. Ultimately, it takes three times the amount of water to make a bottle than it does to fill it. That's not a good value for anyone.