The Countries With the Highest Number of Female Executives Are Not the Ones You'd Expect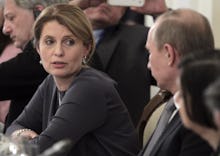 "When women are called to action in times of turbulence, it is often on account of their composure, sense of responsibility and great pragmatism in delicate situations."
That's according to Christine Lagarde, head of the International Monetary Fund, and, whether or not you agree, it's a message that's resonating in emerging markets.
According to the 2014 "International Business Report" by accounting firm Grant Thornton, countries like Russia, Indonesia, Latvia and the Philippines have 40% or more women in senior management, while industrialized countries have about 20%. The U.S. is among the bottom 10 countries in the report with just 22%, along with Spain (22%), the UK (20%), Denmark (14%) and Germany (14%). 
The report, which surveyed about 6,600 privately owned companies in 45 countries, found that the proportion of senior roles filled by women across the BRICS countries — Brazil, Russia, India, China and South Africa — surpasses 30%, exceeding the global average of 24%. 
The report's findings may seem puzzling, at first. But when you take into consideration that women in emerging markets are graduating from universities and graduate schools at rates that match and often surpass those of men, it doesn't seem all that strange. Women in these countries also reap the benefits of growing institutional support for working women, such as remote working arrangements, flexible hours and paid maternity leave.
"Observers in the west tend to see third-world women as victims," according to Sylvia Ann Hewlett and Ripa Rashid, authors of Winning The War for Talent in Emerging Markets: Why Women are the Solution. "The fact is that no company can afford to ignore highly qualified female talent if it wants to compete in these fast-expanding economies — and win."
Francesca Lagerberg, global head of tax at Grant Thornton, agrees.
"Emerging markets do seem really to value some of the things that women bring to boards and senior roles," she said. "The approach to business is different and there's a real recognition that innovation and creativity are sometimes more closely linked to female leaders."
Despite all this, some experts warn that more women executives is just part of the picture, saying that in emerging markets, women's overall participation in the labor force is lower than in Europe or the U.S.
But this isn't to downplay the achievements of women like Olga Dergunova, the former regional chair of Microsoft Russia and CIS, or Svetlana Mironyuk, editor-in-chief of the RIA-Novosti news agency.
Something is working in countries like Russia, which has the highest proportion of women in senior management, and it's not compulsory quotas and legislation. Countries like Spain and Norway have such rules in place, specifically quotas, yet they are in the bottom 10 on the map with the lowest proportion of women in senior management.