And Just Like That, Upskirting Is Illegal Again in Massachusetts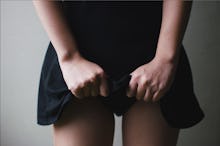 Earlier this week, Massachusetts' highest court ruled that while such behavior is reprehensible, taking "upskirt" photos of women without their consent is perfectly legal.
Standing laws against voyeurism protected against photography of "private area of an individual, without that individual's consent, under circumstances in which that individual has a reasonable expectation of privacy." However, Massachusetts' Supreme Court ruled that Boston man Michael Robertson was not guilty of violating this law because women in skirts or dresses are "not a person who is 'partially nude,' no matter what is or is not underneath the skirt by way of underwear of other clothing."
Fortunately for the women of Massachusetts, upskirting is once again illegal thanks to speedy legislation unanimously passed by the state senate. The bill, which is expected to be approved by Gov. Deval Patrick as quickly as possible, will make taking such photos of unsuspecting people a misdemeanor.
"The House took action today to bring Massachusetts laws up-to-date with technology and the predatory practice of 'upskirting.' We must make sure that the law protects women from these kind of frightening and degrading acts," said House Speaker Robert A. DeLeo in a statement.
"I am proud of the Senate for taking action today to restore a women's [sic] right to privacy," said Senate President Therese Murray. "We are sending a message that to take a photo or video of a woman under her clothing is morally reprehensible and, in Massachusetts, we will put you in jail for doing it. We will need to revisit this law again and again as technology continues to evolve and ensure that we are providing the necessary protections."
While the law won't retroactively put Robertson in jail, it will at least prevent him and others of his ilk from getting away with it again. In 2004, it was suspected that "it wouldn't be an exaggeration to suggest that tens of thousands of women are unknowingly appearing on pornographic websites" — all before the widespread advent of wireless Internet and camera phones. As PolicyMic's Lauren Davidson noted, this kind of behavior isn't just restricted to perverts sneaking photos, it's an entire industry:
Thankfully, in the state of Massachusetts, it appears this kind of behavior will be illegal soon.