What 12 Rich and Famous People Scored On Their SAT Test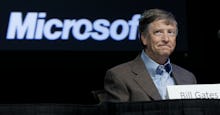 College Board announced on Wednesday that it is overhauling its SAT exam to make it more relevant and accessible to students of all backgrounds. It is only the second-ever time that the test has changed; in 2005, the SAT added a writing section and instituted a 2400-point scoring system. Now, the essay component is optional, and the scoring has reverted to the old 1600-point system.
But even with the overhaul, many people are questioning the relevancy of the test, especially asthe ACT continues its rise in popularity among prospective college candidates. And as the list below demonstrates, the SAT is far from the only factor in a person's success. While some of the people on this list are obvious brainiacs, others' scores may surprise you.
Here are 12 famous and successful people's test scores (judged on the old 1600-point scale):
1. Bill Gates (Score: 1,590)
2. Ben Bernanke (Score: 1,590)
3. Kesha (Score: 1,500)
4. Al Gore (Score: 1,355)
5. George W. Bush (Score: 1,260)
6. Jesse Eisenberg (Score: 1,260)
7. Derek Jeter (Score: 1,200)
8. John Kerry (Score: 1,190)
9. Courteney Cox (Score: 1,100)
10. Kobe Bryant (Score: 1,080)
11. Scarlett Johansson (Score: 1,080)
12. Alex Rodriguez (Score: 910)