The Most Seemingly Everyday Products Are Actually Controlled By China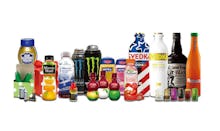 From seeing a movie at an AMC theater, logging on to a Lenovo laptop or hopping in a Volvo, China is becoming increasingly involved in America's economy in ways you probably don't even realize. The acquisition of more U.S. companies by China and the expansion of Chinese business in the United States is an economic reality worth hundreds of billions of dollars.
So what are some products in your home that have ties to China? The answers might surprise you.
Since 2010, the yuan has continued to become more powerful, prompting Chinese business owners to set up shop in the United States. The American Yuncheng Gravure Cylinder plant is actually a Chinese company, and though you've probably never heard of it, you've definitely bought their products. Its South Carolina factories produce the bottles for Minute Maid, Monster Energy, 5-Hour Energy, Svedka and Nivea products among others.
Shopping for a home appliance at Walmart, Target or Home Depot? You may very well be buying from Haier, the first Chinese appliance manufacturing company to build factories in the United States, starting back in 2000. Since then, the company has expanded its production sites in the South and has employed hundreds of American workers. The company has estimated revenue of an astounding $29.5 billion.
On moving to the United States, Haier's CEO Zhang Ruimin commented, "We had to make Americans feel that Haier is a localized U.S. brand instead of an imported Chinese brand."
The stainless steel pipes that move oil underneath our houses may also be the work of a Chinese company. The world's biggest producer of steel pipe, Tianjin Pipe, came to the United States after the government set extremely high import duties on the types of products the company makes. While the U.S. government originally created the tariff to protect American steel producers, Tianjin saw this move as an opportunity to move to the United States. They have been doing business here ever since.
Chinese companies are staking a larger claim in the U.S. economy. Image Credit: CNN Money.
China is finding success in the American digital business industry. Tech giants like Huawei, the world's third largest telecommunications company, are growing in the domestic smartphone industry. Tencent, an Internet company, recently invested a large amount of money in the American mobile app Snapchat, with rumors suggesting that it's seeking to acquire it. ZTE telecommunications company has headquarters in Morristown, N.J.
For many, China's boom in the states has been a treat. The Chinese candy and sweets company Au'some LLC poured millions of dollars and created hundreds of jobs as it opened a mega candy factory in the United States in 2012.
It's estimated that between 2001 and 2007 alone, U.S. exports to China created 2.57 million new jobs in the United States.
The fact of the matter is that there are incentives for Chinese companies to invest or establish business in the United States. As KPMG explains in a recent report, access to advanced technology, favorable government incentives, good economic conditions and access to new markets make the United States a top choice for Chinese business leaders.
No other China/U.S. deal was as big, or as controversial, as the one over homegrown pork producer Smithfield Foods. The sale of Smithfield Foods to the Chinese meat company Shuanghui International in 2013 was a deal valued at $7.1 billion. It evoked angry backlash as the domestic company was sold. The former CEO of Smithfield Foods, Larry Pope, explains that even his own mother asked him in disbelief why he was selling the company "to the communists."
According to a Pew Research Center survey, the number of Americans who view China favorably has decreased by 14% in the past two years. The survey explains that this is tied to "unease about China as a commercial competitor."
So whether Pope's mother likes it or not, global markets will continue to thread Chinese and American business closer together. And it looks like it's something that many Americans are going to have to get used to.