11 Asian Musicians Proving That Great Music Knows No Race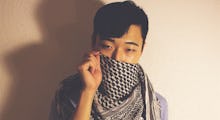 Anyone following music has surely seen the shift. Where once Asian-American musicians were stereotyped as playing only classical and techno, now they're breaking into all facets of the music scene with some of the most adventurous, badass music out there.
But the battle isn't over. Asian-Americans still face serious stereotypes everywhere in the world, but in America especially.
These 11 pioneering musicians know well what these stereotypes about Asian-Americans are, but they're proving that great music is great music — regardless of the race of its creator.
Here are their thoughts and personal experiences about what it means to be Asian and make music in America:
1. Jhameel
Jhameel is a Los Angeles musician making waves on the music scene. His eclectic sound mixes pop, electronica, soul and funk and he's won a huge fan base in L.A. First, though, he had to overcome the expectations placed on Asian-Americans.
"When I was growing up, I grew up in all white towns, and I was made fun of a lot for being Asian. When I became a teenager, I became ashamed of it, and nobody should think that ever about the race they are.
[Music] became more of an outlet to say something that really mattered to me. I didn't expect people to listen, but it became an obsession after that and then became my career ... American society can be so progressive with other race relations, but it's very difficult for people to find Asian-American problems severe. But I don't think complaining about it is the way to go, I think living is the way to do it."
2. Andrew Huang
Andrew Huang is a YouTube sensation. He creates over 100 songs a year in whatever genre he feels like, and he takes song challenges from his fans, too. Jumping from rap to pop to electronic to classical, Huang refuses to be boxed in to any one category, partially because he knows what it means to be boxed in.
"I grew up with literally zero Asian cultural role models. I think I might actually have been a teenager before I ever saw a professional Asian actor or musician in Canada — and in fact it's so bad that I remember exactly who they were: Sandra Oh and MC Jin.
Our under-representation in media — then and now — is a total shame of course, but I wonder if it freed me to explore who I could become with more purpose and more precision. I was going to destroy people's expectations just by holding a bass guitar rather than sitting at a piano, so why not try writing ska songs, producing techno beats, rapping, DJing, joining a jazz band?"
3. Andy Suzuki
Andy Suzuki is the frontman for the multi-racial band Andy Suzuki & The Method. The band has its roots in R&B, but has pop and folk influences as well. Suzuki has often sang and talked about his experience growing up with mixed heritage, and the band has an enormous following in Southeast Asia.
"There are a lot of people who will see a strictly 'Asian' singer-songwriter and not be interested because they're Asian, and that's the troubled world we live in. People I have come across in the industry, higher up people, they look at me potentially as 'he's not too Asian' so no one will be scared to listen to him.
It's a pretty messed up state of affairs as far as how Asian males are perceived in American society. And of course you can say that for so many other groups from females, to Native Americans, to black people ... the difference is that it's not talked about with Asian males."
4. Bambu
Bambu is an activist, community organizer and emcee who has long been influential in hip-hop circles. He sees his music as a powerful form of activism.
"It's okay for us to embrace hip-hop as something that's totally not our own; embrace it and hold it up so it doesn't go the way of jazz and rock and roll.
We don't want to be part of the erasure of black culture ... hip-hop is a black and brown art form — such a wonderful medium, so many cultures of people, and they share a common bond ... We are not out to say, 'Make 'Asian' hip-hop or music,' we recognize its other subcultures and ethnicities ... that's something I feel is very important for us to embrace and be okay with."
5. Baiyu
This Chinese-American artist has watched the music business change from the days of complete record label control to the rise of YouTube. Her music is heavily influenced by soul and divas like Whitney Houston and Mariah Carey. She has appeared on MTV, the CW, in PYNK Magazine and also holds a degree from Princeton University.
"I think that Asian-Americans have a lot to give and we have a unique voice ... As we work on our craft, we will develop our own unique sound, we will pursue it specifically.
People really want to listen to what you have to say. People gravitate towards honest and truthful, it will surprise younger musicians how much people will really love that."
6. Kawehi
Kawehi is a singer-songwriter who has become a YouTube star. Her recent cover of Nirvana's "Heart-Shaped Box" was featured on SPLOID and, yes, it went viral. But it wasn't always easy for her to fit in:
"I was born and raised in Hawaii, so we're a mixture of different Asians. When I came out to L.A., it was a shock for me because I didn't really have a strong bond with those who were from first gen, or had parents from Japan or China. It was definitely a hard thing to fit into.
It's always difficult being a musician who's not white, really. I joke we all start out playing piano or violin, (for me piano) but that doesn't mean we stick to that music. You love what you love. There are no stereotypes in music — there shouldn't be — it shouldn't matter what you look like, it should matter what you sound like."
7. Ruby Ibarra
Ruby Ibarra is a hip-hop artist who is not afraid to speak her mind. She often raps about her cultural heritage and her experience and story as a Filipino and an immigrant to the U.S.
"I definitely try to incorporate a lot of cultural history — my background is Filipino — into my spoken word and music. A lot of those themes are overlooked in mainstream media and I feel it's important to include that in my music as well.
Music is a platform that allows me to reach an audience either small or big: I have people listening to what I'm saying."
8. Mio Soul
Tokyo isn't exactly where you expect to find an R&B singer, but Mio Soul has an incredibly soulful, no holds barred sound. Equally comfortable in singing and writing in English and Japanese, her music is drawing fans in both America and Asia — but her aim isn't to be an "Asian singer."
"Maybe people can really tell if this is 'Asian music' or an 'Asian singer,' but I am not pushing that part. I am a singer-songwriter and music producer ... I try to be an example of a person that dreams.
If you don't really feel comfortable in the culture or society you grew up, it's okay to travel somewhere else and meet different people and put yourself in a totally different culture ... One my main purposes is to represent — in addition to Asian and Japanese girls — that I'm influenced by Western cultures. My goal is to mix them together and present them as my art."
9. Jason Gorelick
Jason Gorelick is the violinist and sometime-guitarist for the multi-racial band Andy Suzuki & The Method. The band has its roots in R&B, but it also has pop and folk influences as well.
Gorelick thinks his group's race helped get the band started:
"It made a difference in the earlier days when we were booking gigs ... The industry and world ... has been more interested in diversity and race than the previous decade. You go back and look at the deals then and it was a money-machine driven culture and benefited those that were 'privileged.' It wasn't until recently that people of race had those privileges [because of YouTube and the Internet]."
10. Awkwafina
Awkwafina is a hip-hop artist known for challenging conventions and stereotypes. Her songs "NYC Bitche$" and "My Vag" among others, are famous for their clever profanity. Her first album Yellow Ranger dropped to huge buzz in the NYC music scene, and her music videos are known for their satirical edge. But she's still primarily known as an "Asian rapper."
"I've never really tried to be an 'Asian' rapper, and I could never really be a hit in Beijing or Japan because they wouldn't get it. I don't really have songs where I talk about 'being Asian and this is what's up.'
When I first had a lot of exposure, I had production companies and management talking about being an 'Asian rapper' as something that is a commodity and sellable and I never really wanted to be that."
11. Alex Hwang
Alex Hwang is part of the folk band Run River North, which is comprised of six Korean-Americans, all of whom both play instruments and are also vocalists. Their lyrics often speak to the immigrant experience of their parents and others, and their music is gaining an enormous following due to their beautiful harmonies. 
Hwang, though, is put off by the emphasis on their race.
"In the beginning, you see it as something to differentiate yourself from other people: six Asians instead of one or two sprinkled in. A lot of industry are interested in what that looks like. Definitely, people talk about it, and they're not trying to be racist, but one guy asked [in a radio show] 'Is there anything 'Asian' about your music?' It's not a question you would ask Mumford & Sons.
We're still trying to figure out how to answer those kinda questions ... The quality of music has to speak louder than 'being Asian.' It should be we're making good music as opposed to we're all Korean, and if that's not the case we should stop doing it."