How You Can Help Find the Missing Malaysia Airlines Flight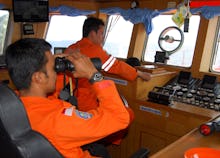 The search for Malaysia Airlines Flight MH370 is so broad that it's not only a joint government and joint military investigation, it is now a public one.
As investigators from more than 10 countries desperately try to help Malaysian authorities find the Boeing 777 aircraft that went missing on Saturday, the scope of the work keeps expanding. In perhaps the smartest use of global satellite imagery, one company is crowdsourcing the search.
The American-based satellite imaging firm, DigitalGlobe, has launched a campaign with Tomnod where Internet users can sort through images around the Gulf of Thailand where clues about the missing flight may hide. Each person is given a location or specific area of the water, tasked with tagging any suspicious-looking materials that appear in the millions of pixels.
"For people who aren't able to drive a boat through the Pacific Ocean to get to the Malaysian Peninsula, or who can't fly airplanes to look there, this is a way that they can contribute and try to help out," Luke Barrington, senior manager of Geospatial Big Data for DigitalGlobe, told ABC News.
The digital campaign asks users to tag any sign of oil spills, plane wreckage, rafts or strange objects. Tags are then submitted, and a person can instantly share a particular part of the satellite image on social media. The goal is that if someone finds something suspicious, others will also find it, garnering hundreds or thousands of tags and warranting further investigation.
So far, it has been so popular the site actually crashed temporarily on Tuesday. More than 500,000 unique visitors had visited the site within the first day. Users originally tagged around 1,200 square miles. The company is uploading hundreds of images, covering more than 15,500 square miles of ocean.
"It was probably late [Monday] night we started seeing some of the 'tremors.' And the 'quake' hit late [Tuesday] morning when we were getting 100,000 people visiting per hour," Barrington told the Denver Post.
DigitalGlobal has helped in emergency situations in the past, aiding in the aftermath of disasters like floods and typhoons and in locating missing hikers. The company is now hoping that its public satellite images may soon help the search for the vanished Malaysia Airlines flight.