This Was the Very Last Message Received on the Malaysia Airlines Flight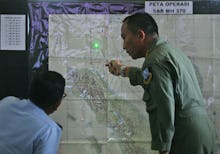 Just minutes before Malaysia Airlines Flight MH370 vanished Saturday, reports of the plane's last communication indicated everything seemed to be fine on board. According to investigators, the pilots of the missing plane did not give a distress signal as they responded to Malaysian air traffic control. Their last radio communication is reported to be either "All right, Roger that," or "All right, good night."
After that, silence. 
Malaysian air traffic control then announced it would be handing air traffic control of the plane over to Ho Chi Minh City Control, a standard message. Minutes after a response from the cockpit, the flight disappeared. 
Malaysian police delievered the latest news in Beijing for relatives of the 154 Chinese who are among the 239 missing passengers.
The plane's last known location was about a half-hour out of Kuala Lumpur between Malaysia and Vietnam. As to where the plane may have traveled after that, there are conflicting reports. The flight may have been traveling over the Straight of Malacca, hundreds of miles from its intended course. However, this has neither been denied nor confirmed. 
Image Credit: the Guardian
"We are not going to leave any chance. We have to look at every possibility," Malaysian civil aviation chief Azharuddin Abdul Rahman told AFP news agency.
The Washington Post reported on one post that has gone viral on Chinese microblogs: "Vietnam keeps discovering. Malaysia keeps denying. China keeps sending things on the way. Journalists keep waiting at the Lido hotel [where relatives are waiting]. Family members keep being in pain. ... But where is the plane?"
The confusion stemming from the search has caused tension among Vietnamese, Chinese and Malaysian officials. 
As families and friends of the missing passengers wait in agony, the last words from the missing Malaysia flight echo eerily on international news.