Watch What Happens When a Fortune Teller From Myanmar Wears Google Glass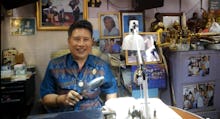 Get ready to see Google Glass in a completely different way. The futuristic eye-wear is often jokingly (but rather truthfully) associated with affluent, nerdy techies eager to explore the latest in the virtual world or perhaps more ominously, is linked to the so-called Google Empire. One man, however, is using the cutting edge technology to usher in a new wave of international storytelling. 
Beyond the streets of Brooklyn or San Francisco, people are using Google Glass to break cultural barriers by sharing interesting and important stories from their own perspective.  
American filmmaker Josh Kim is redefining how the world looks at both Google Glass, and the types of people who use it. In an innovative scheme, Kim brought his Google Glass to Myanmar and lent it to locals as part of his documentary project. 
A struggling pay-phone operator and entrepreneurial sugar cane juice vendor are among those who have been able to share their view of the world. Another has been this eclectic engineer-turned-fortune teller, who used Kim's glasses to bring the world inside the small world of palm reading and life predicting. Check out his story here: 
Could Google Glass reinvent news-reporting and documentary filming like the handheld video camera did? Beyond being able to self-record and capture a person's view, Google Glass allows people to share information in real time. If the cost of Google Glass (over $1,500) goes down, its impacts could be even greater. Time will tell, but until then, we're keeping an eye on Google Glass storytellers.