A 22nd State Is About to Legalize Medical Marijuana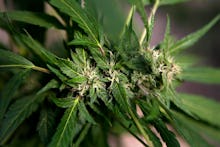 The news: While Washington and Colorado may be the only states that currently allow recreational marijuana, the movement towards legalized medical marijuana is about to succeed in nearly half the country, with a brand new state on track to join the group: Utah.
On Thursday, the Utah state Senate passed a medical marijuana bill in a unanimous vote, and all it needs now is Governor Gary Herbert's signature. The bill had also previously passed the state House by wide margins.
The new bill will only restrict marijuana use to non-intoxicating cannabis oil for epileptic patients. Nicknamed "Charlee's Law," a 6-year-old epileptic patient who inspired the bill, the bill will clear marijuana for pediatric use as well.
The background: Medical marijuana has shown positive results for epilepsy treatment, especially for patients who have physical resistance to traditional medications. A special strain cultivated for pediatric epileptic treatment, called "Charlotte's Web," has become widely popular, with parents flocking to Colorado to get a supply for their children.
Of course, given marijuana's schedule I controlled substance status, there have not been enough peer-reviewed scientific studies to confirm that the treatment is successful and poses no danger to children. But strains like "Charlotte's Web" are bred to contain no psychoactive ingredients. The Utah bill also stipulates that cannabis oils must contain "at least 15% cannabidiol (CBD), the chemical believed to have anti-seizure properties, and less than 0.3% of tetrahydrocannabinol, or THC, the psychoactive chemical that gives marijuana users a high."
Those who want to receive a "hemp waiver" in Utah must also prove that they have intractable epilepsy, and obtain written permission from a board-certified neurologist. If the bill passes takes into effect by July, it will expire after two years to allow for further legislative review.
What does this mean? Given how many restrictions the Utah bill is loaded with, it is unlikely that a recreational marijuana legalization bill is soon to follow. Herbert has made it clear that he views marijuana as "some kind of prescription" just like "any other medication."
Still, Utah's move signals a growing acceptance of marijuana as a medical alternative, and it's a trend that is increasingly gaining momentum nationwide — Kentucky and Georgia are expected to soon follow Utah's example. Financial incentives aside, there are still exciting, possible health benefits for marijuana, and the only way to see if those benefits are real is to keep an open mind and experiment.