10 Surprising Health Benefits of Medical Marijuana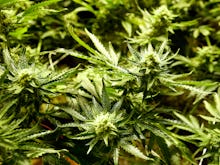 Now that Colorado and Washington have successfully legalized weed, others states are already wondering if they can do the same. But many are forgetting a crucial argument in favor of marijuana legalization: its health benefits.
Because marijuana is a Schedule I controlled substance, it has to be tested under the strictest of circumstances. But the few marijuana studies that we have seen show great potential for the advancement of medicine, leading prominent experts such as CNN's Dr. Sanjay Gupta to change their mind regarding legalization.
If you are still on the fence about marijuana legalization, here are 10 surprising health benefits to consider.
1. It can stop HIV from spreading throughout the body
In perhaps the most unexpected news yet, scientists announced last month that THC, an active ingredient in cannabis, was effective in stopping the spread of HIV in monkeys. The monkeys that received daily THC doses had higher levels of healthy cells as well.
2. It slows the progression of Alzheimer's
During his much-lauded congressional appearance as an Alzheimer's activist, actor Seth Rogen joked, "This has nothing to do with the legalization of marijuana." Well, he might be surprised to learn that it does.
A 2006 study found that marijuana can block an enzyme that is behind the progression of Alzheimer's. It also prevents "protein clumps that can inhibit cognition and memory."
3. It slows the spread of cancer cells
A 2012 study found that a marijuana compound "can stop metastasis in some kinds of aggressive cancer." Last year, a similar study found that certain non-psychoactive cannabinoids "resulted in dramatic reductions in cell viability" and "caused a simultaneous arrest at all phases of the cell cycle" in leukemia cells.
4. It is an active pain reliever
Marijuana's anti-inflammatory pain relief has shown to be effective in treating a host of illnesses and conditions, such as multiple sclerosis, rheumatoid arthritis and migraines. The effects "are several hundred times more powerful than that of aspirin."
5. It can prevent or help with opiate addiction
Because marijuana acts as such effective medication, it can reduce dependence on opiate-based medication, which has more addictive qualities.
6. It combats depression, anxiety and ADHD
A 2005 study found that "those who consume marijuana occasionally or even daily have lower levels of depressive symptoms than those who have never tried marijuana." In small doses, it relieves anxiety and symptoms of ADHD.
7. It can treat epilepsy and Tourette's
In December, the FDA gave the go-ahead to study the efficacy of medicinal marijuana in treating pediatric epilepsy. Research has shown that it can alleviate symptoms of Tourette's in certain cases as well.
A Colorado non-profit has already developed a strain called "Charlotte's Web," which they provide for free to those who suffer from epilepsy, Parkinson's and similar conditions. The strain is named after a 6-year-old epileptic patient who inspired the move.
8. It can help with other neurological damage, such as concussions and strokes
Research indicates that marijuana has neuroprotective qualities, which can limit neurological damage after stroke or trauma. There has already been talk over where the NFL could introduce marijuana to deal with concussions.
Even NFL Commissioner Roger Goodell signaled his willingness to consider the idea: "We will follow medicine and if they determine this could be a proper usage in any context, we will consider that," he said in January.
9. It can prevent blindness from glaucoma
By decreasing the pressure inside the eye, marijuana can prevent blindness for those who suffer from glaucoma. Research found that marijuana was effective in lowering eye pressure when ingested orally, intravenously or by inhalation.
10. It's connected to lower insulin levels in diabetics
"The most important finding is that current users of marijuana appeared to have better carbohydrate metabolism than nonusers," according to a Harvard researcher. The 2005-2010 study found that "the current marijuana users showed fasting insulin levels that were 16% lower than those of former or never users, along with a 17% reduction in another measure of insulin resistance as well."