These Portraits of Dead Syrians Are a Haunting Reminder of a War Still Being Ignored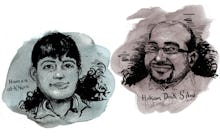 Saturday will mark the three-year anniversary of Syria's revolution turned civil war, and many artists, activists and campaign groups have joined forces to draw international attention to the country's crisis. 
"It's a slow motion horror," artist and writer Molly Crabapple told PolicyMic.
Crabapple is one of the many asking for the world to stand with Syria. The United Nations has called it the "greatest humanitarian tragedy of our times," and still, Syria's nightmare drags on, with a seemingly numb international community.
The death toll surpassed 100,000 in July, according to official reports, and is no doubt much higher today. The UN announced in January that it has stopped counting the country's dead due to an inability to "verify the sources of information."
While the death count is disputed, the gravity of the situation is very clear: Children are starving in refugee camps, more than 10,000 children have been killed during the course of the conflict, 6.3 million have been internally displaced and 2.5 million people have fled the country.
Image Credit: AP. Syrian refugee family enters a tent at Zaatari Refugee Camp in Jordan.
It might be easy to ignore numbers, but some campaigners, led by Syrian-American writer Amal Hanano, are putting faces to the names that the world would rather forget.
The collective action, called the #100000Names Oral Memorial for Syria campaign, asked Crabapple to put pen to paper in order to give faces to bring attention to those dead. Her haunting and beautiful portraits of Syria's fallen communicate what words cannot.
The portraits, like the campaign, attempt to answer the unimaginable question, "How does one comprehend the number of Syrians killed?" 
Crabapple drew 15 faces of the countless killed in Syria, setting out to help turn what she calls a "dehumanizing number" into a powerful call to action. Her beautiful drawings are actual portraits of those killed. They are based off of images from Hanano's online social media network of Syrians posting pictures of their loved ones and images from Syrian humanitarian and activist organizations. 
"I wanted to make them feel alive again. I wanted to use all of the vividness and motion and care that I could bring to my art to make people not just see these people as bodies," she said.
There's an unmatched sense of movement and emotion her work — the billowing backgrounds, active poses, lines placed in such a way that they seem to turn. In short, these fallen Syrians seem very much alive.
According to Crabapple, her portraits along with the campaign seek "to create a place to honor the people who died in Syria's revolution and remember them as individuals .... as actual people who had loved and fought and studied and existed."
Hanano, who is from from Aleppo, is using the campaign to confront the world's silence on Syria. Along with a group of activists and concerned citizens, Hanano is standing in front of the White House for 72 hours straight, reading one by one, all of the names of the thousands of women, children and men who've died.
In addition to honoring the lives lost, the campaign also seeks to shame the international community for their extremely limited response to Syria's massive civil war and in its aid to refugees. 
The U.S.'s brief intervention stint came and went as domestic economic and security woes interrupted the discussion surrounding Assad and his chemical weapons. Crabapple describes how this might have come to be. With culture deeply bound to the concept of the "other," and the personal struggle to grapple with leaked evidence of war crimes we committed when previously meddling abroad, she considers it no wonder we wanted to stay as far away as possible from the crisis. 
But this hasn't stopped the mass murder of children, teenagers and adults by gun, torture and bombing.
Speaking to the West, and more specifically to the Left, she said, "We fundamentally failed. We didn't actually look at what was there. We looked at Afghanistan and Iraq and all the horrific things the U.S. had done in the war on terror ... but meanwhile, there was this heinous war that was already being waged that was quite asymmetric." 
This is Fatima Meghlaj, age 2. She was killed in #Syria on Sept 16, 2012. Portrait by @mollycrabapple #100000Names pic.twitter.com/Ws6qz1NnRz
The United State has taken 31 refugees out of the millions spilling into Syria's less stable and financially equipped neighboring countries. In Lebanon, for example, 1 of every 4 citizens is now a Syrian refugee. 
Writing for the Guardian today, Crabapple described the slow drip of humanitarian aid, which still leaves millions in desperate need: "while the war rages, aid is like a Band-aid on a slit throat."
"It's not fair...that's not something any country could support. The global community needs to step up and start taking some refugees," said Crabapple.  
Hanano was unable to comment, but updates from her Twitter account convey just how emotional (and important) the campaign's work is: 
The driving force behind the work of Amal Hanano, Molly Crabapple and the tireless advocates for Syrians around the world boils down to the human condition. It is not simply a question of emotion or politics, which can be evoked momentarily and then fade with time. It is instead the acceptance that regardless of distance, we all deserve to live. One hundred thousand. That's how many times your heart beats in one day.