Finally! The European Union Just Approved a Universal Mobile Charger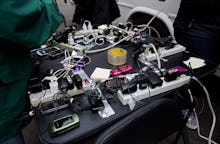 The Europe Union is getting a complete mobile technology upgrade after government leaders overwhelmingly voted to establish a universal cell phone charger. For the people of 28 European countries, the cellphone user's struggle of desperately asking strangers for a compatible charger, packing the wrong cord or having to toss old chargers every few years will soon be a thing of the past 
The vote last week unofficially adapted a new Radio Equipment Directive, a program that will mean new mobile technology must be compatible with a universal charger. If adapted in its current form, the directive will change not only the cellphone industry, but those of tablets, GPS and other radio-emitting devices. 
The goal of the plan is to create "an efficient tool to prevent interference between different radio equipment devices," according to rapporteur Barbara Weiler. The vote was a landslide victory with 550 supporting votes, 12 dissenting and 8 abstentions. 
Consumers and environmentalists are undoubtedly rejoicing. The plan will significantly reduce costs to everyday mobile users and Mother Earth. The world amasses more than 51,000 tons of electric waste each year, according to reports, and cutting the production of hundreds of cellphone chargers will help reduce this.
"The current incompatibility of chargers ... is a nightmare and a real inconvenience for consumers. This new directive ends this nightmare and is also good news for the environment as it will result in a reduction of electronic waste," Weiler said. 
According to one study, Americans replace their cellphone chargers every 21.7 months.  While data on how much people spend each year on new cellphone chargers is not easily available, consumers know the hassle of having to upgrade their charger or having to always carry their own personal cord for fear of losing power, often referred to as #FirstWorldProblems. 
If Europeans enjoy access to seamless charging, will Americans and other global cellphone users demand similar changes? Will mobile tech giants like Apple, Google or Samsung offer envious cell phone users outside the EU their new products? 
Facing looming changes that could cost them billions, tech companies operating in the EU are responding to the directive with mixed emotions. 
"Samsung sees the benefits and momentum in working alongside other manufacturers and standardization organizations to find universal solutions to meet consumer demands," said Nicholas Breakspeare, a spokesman for Samsung said, according to Albawaba Business.
At the same time, Digital Europe — an organization representing cell phone manufactures like Apple, BlackBerry, Motorola and Nokia — is quick to point out the important distinction between chargers and connectors. 
If the universal charger movement continues at its current speed, local laws will see changes as soon as 2016, which may seem like an eternity of eager consumers, but not more than a blink of an eye for industry changes.