Guinness Pulls Out Of NYC St. Patrick's Day Parade in Bold Protest for LGBT Rights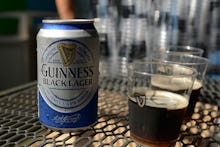 On Sunday, Boston's annual St. Patrick's Day parade went on without its mayor or a beer sponsor, and it looks like it will be the same case for New York as well.
After Heineken withdrew its sponsorship of the New York City St. Patrick's Day parade, Guinness announced on Monday that it could no longer support the event either. "Guinness has a strong history of supporting diversity and being an advocate for equality for all," announced the Connecticut branch of the Irish brewer.
"We were hopeful that the policy of exclusion would be reversed for this year's parade. As this has not come to pass, Guinness has withdrawn its participation. We will continue to work with community leaders to ensure that future parades have an inclusionary policy," the statement added.
Mayor Bill de Blasio also announced that he would boycott the parade, becoming the first New York mayor in 20 years to do so. Boston's Mayor Marty Walsh did the same on Sunday; the Irish-American Walsh decided not to participate after negotiations between parade organizers and local LGBT groups fell apart.
"As mayor of the city of Boston, I have to do my best to ensure that all Bostonians are free to participate fully in the civic life of our city. Unfortunately, this year, the parties were not able to come to an understanding that would have made that possible," Walsh said.
Guinness' move comes after The Stonewall Inn, the historic site of the 1969 LGBT riots, threatened to ban Guinness from its establishment. After pressure from other LGBT organizations such as GLADD, Guinness decided to follow Heineken and Boston Beer Company example and withdraw its support for non-inclusive parades.
"Today, Guinness sent a strong message to its customers and employees; discrimination should never be celebrated," GLAAD president Sarah Kate Ellis wrote in a statement.
Ford Motor Company remains the last big sponsor for New York's parade, but Guinness' move is a particularly big statement because of its roots. Unlike the Boston-based Samuel Adams and the Amsterdam-made Heineken, Guinness is an actual Irish beer that is hugely popular on St. Patrick's Day.
New York and Boston parade organizers have previously stated that LGBT inclusion is not a necessary part of St. Patrick's Day, but if any beer has the clout to prove them wrong, it would be Guinness.