This Is What the Taliban Said About the Missing Malaysia 777 When Asked if They Helped Hijack It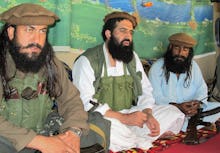 While the search regarding the mysterious disappearance of the Malaysia Airlines plane deepens, it seems pretty safe to rule out one scenario: a Taliban hijacking.
The latest theories have suggested that the Boeing 777 plane may have flown north of the Bay of Bengal and towards the Pakistan-Afghanistan border where it is being held hostage. While the investigation has focused on the plane's passengers and crew, a terrorist plot has not been completely ruled out. But over the weekend, Taliban officials made it clear that they were not involved.
"It happened outside Afghanistan and you can see that even countries with very advanced equipment and facilities cannot figure out where it went," said Zabihullah Mujahid, a Taliban spokesman. "So we also do not have any information as it is an external issue."
If that wasn't clear enough, a commander in Pakistani Taliban — the Taliban offshoot behind the attack on Malala Yousafzai — told Reuters that it would have been a dream to be behind such an operation.
Alas, they were not. "We wish we had an opportunity to hijack such a plane," he said.
Even with the latest satellite data, authorities have struggled to effectively narrow down the plane's potential location or even area. There are two potential regions: one stretching from South Asia to Central Asia and one from Indonesia to the vast Indian Ocean by Australia.
Image Credit: The New York Times
Authorities in India and Pakistan have not reported seeing the plane in their airspace, and it's unlikely that they would have missed it, given how heavy surveillance is on the border between the two rivals. Kazakhstan and Kyrgyzstan have similarly denied seeing an unidentified plane enter their respective countries.
As more evidence comes to light, investigators have increasingly considered foul play as the cause of the plane's disappearance. According to reports, the plane's controls were manually overridden and the computer flight path was reprogrammed before the plane went missing. Authorities have also honed in on the pilot's political background, although others on-board are also being investigated.